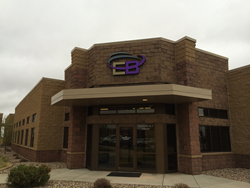 I am extremely pleased to see the completion of our new headquarters
Sioux Falls, SD (PRWEB) May 12, 2014
EarthBend CEO Rob Beyer announced today that they have completed construction of their new Corporate Headquarters in Sioux Falls, SD. EarthBend has completed the move from their 49th and Western location to a newly constructed 14,000 square foot building located on N 54th Street near Reliamax and Sanford Research. EarthBend is pleased to host The Sioux Falls Chamber of Commerce May Membership Mixer on 5/13/2014 at their new headquarters. (More information and to register click here)
"I am extremely pleased to see the completion of our new headquarters. The new facility will enable us to continue to extend our services and support activities by leveraging our new classroom, labs, data center, staging area, and numerous conference rooms. We went from one meeting room to naming multiple conference rooms!" Said CEO Rob Beyer
EarthBend selected the architectural firm of Vandewalle & Associates for the design and general contractor Beck & Hofer Construction to complete the 4 month project which started in January. The new building, located at 2300 E 54th St. N Suite#3, will house roughly 45 employees. This premier facility boasts a warm inviting entrance, large meeting and collaboration area, fitness room, expanded warehouse, large training room and data center. It will also serve as a key technology differentiator for their Midwest customers providing enhanced local IT (Information Technology) system design, testing, staging, monitoring, service and support. The commitment and investment to its customers, employees and community are apparent in every detail of this state of the art facility.
For more information about EarthBend and its new headquarters, visit http://www.EarthBend.com or call 605.789.5700
About EarthBend
EarthBend has been a trusted information technology provider in the upper Midwest for over 32 years. Locally owned and operated in Sioux Falls, SD and employing 67 technology professionals who support customers in the Midwest and across the United States. EarthBend provides leading edge technologies, local engineers for on-site consulting and support, and competitive pricing through its national reach. Their experienced team can provide businesses with IT computing, data storage, business phones and networking. With three decades of experience, EarthBend's proven methodologies and full suite of consulting, support, and managed services can support your organization whether big or small. Every EarthBend account executive and engineer commits to ongoing education, certification and training in order to provide the best consultation, design, implementation and support for businesses.
EarthBend Contact:
Brandi Mentele
Marketing Manager
605-789-5661
Brandi(dot)Mentele(at)EarthBend(dot)com