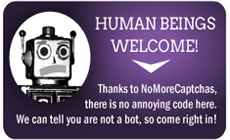 People don't need to put up with those annoying squiggly lines when they log in anymore. We've moved beyond that.
Luxembourg City, Luxembourg (PRWEB) May 08, 2014
Internet security start-up Oxford Biochronometrics launched its new product today, NoMoreCaptchas, which uses behavior to filter out bots that attack websites and allows only humans through the door. Available for download at http://www.nomorecaptchas.com and the WordPress Plugin Store, their new technology eliminates the need for those annoying Captcha codes – the squiggly letters and numbers people must decode in order to log in to a website.
Every day there are millions of attacks on websites by automated programs, causing headaches for webmasters around the globe. These programs, or bots, create fake logins and registrations for websites in order to publish spam. Current technology used to block these bots relies on lists of known spam sources and email addresses, but such lists can be incomplete and even wrong, blocking real humans from a website. To help with those faulty lists, most webmasters use Captcha technology, those barely legible, squiggly numbers and letter that humans can read and bots supposedly cannot. The problem is, Captchas are so universally despised there is even an international petition to get rid of them all together.
"Forcing humans to enter a code they can barely read makes many of them go away," CEO Adrian Neal stated. Citing a recent study on Captcha's reliability by researchers at Stanford University he went on to explain, "Many people can't even agree on what those squiggly lines say, and if your user is blind or visually impaired, the task become impossible." Studies building on Stanford's research show that 1 in 5 users leave a site when forced to enter a Captcha. Stanford's research also showed that at least 30% of the time, users who try to enter the code fail to get it right. Sometimes that number is much higher and some studies claim failure rates over 70%.
To solve these problems, the company has released its new product for webmasters, NoMoreCaptchas, available for download at http://www.nomorecaptchas.com. NoMoreCaptchas uses behavior, not a list, to determine if it's a person or bot attempting to access a website.
Mr. Neal explains, "While researching the issues of accessibility and security at Oxford University, we realized that bots cannot effectively copy the way humans interact with their devices and a website. So we set out to identify over 400 markers of human behavior when they use a computer. These markers are then analyzed with a set of complex algorithms that need only a fraction of a second to determine if the user is a human or a bot." This means that humans won't have to be confronted with those annoying Captcha codes and webmasters won't get spammed by bots. Since NoMoreCaptchas is always on and works passively, once it's in place, users are simply granted access automatically while bots are actively blocked.
"The potential impact this can have on the Internet is enormous," CEO Adrian Neal declared. By eliminating the need for Captcha, the internet can become more accessible for everyone. Advocates for the blind and visually impaired, senior citizens and usability experts all have a solution that fits their needs with NoMoreCaptchas. What's more, webmasters will be able to stop spending time trying to trick advanced bots. Recent attacks on major social platforms that have made the news will become a thing of the past if bots are automatically sent away.
The initial product is a Wordpress plugin. Wordpress is the most widely used content management system for websites, so by installing this simple plugin, webmasters can make use of this new biochronometric technology right now. Additional packages are in development and are to be released shortly. For more information, visit http://www.NoMoreCaptchas.com.
About Oxford Bio-Chronometrics
Oxford Bio-Chronometrics was founded by Adrian Neal, a former software engineering Masters' graduate and cryptographics expert with over 25 years' experience in IT, Banking and Security. The company was created in 2012 by a team of former post-graduate researchers at the University of Oxford in order to commercialise the Bio-Chronometric Signature, which is algorithmically derived from bio-chronometric markers that cannot be copied. The following year, Oxford Bio-Chronometrics was established as a venture within the software incubator of Isis Innovation, the technology transfer company wholly-owned by Oxford University. In March 2014, Oxford Bio-Chronometrics established its Head Office in Luxembourg. For more information, visit http://www.NoMoreCaptchas.com.