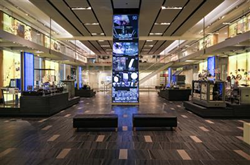 Seattle, WA (PRWEB) May 08, 2014
Spacesaver Corporation, the leader in providing museum, archival and preservation storage will be exhibiting at booth #1023 at the AAM Expo, May 18-21st in Seattle, Washington. Attendees who visit the Spacesaver Corporation at booth #1023 will be able to learn more about the expansive museum products and information about previous museum and archival projects.
One of Spacesaver's most recent installations that will be a headlining feature during the exhibit is from the Chemical Heritage Foundation in Philadelphia, PA. The Chemical Heritage Foundation is a center focused "preserving the past, to understand the present and inform for the future" which is why CHF chose to preserve a local historic building as their new facility for archival storage. Working with Spacesaver, the museum archivists and curator were able to not only preserve the historic building's façade but also alter the interior to maximize their storage space. The building was focused on innovative usability, to access all of their materials quickly and easily.
Learn more about the products and design techniques used to create both functional and innovative spaces from Spacesaver at booth #1023 for the 2014 AAM Annual Meeting and Museum Expo.
Spacesaver Corporation is the industry leader when it comes to High-Density Mobile Storage; secure storage, locker storage, cantilever shelving, and other shelving solutions. Whether you're in need of library shelving, office storage solutions, military storage, museum storage, evidence storage, sterile healthcare and pharmacy storage, or mobilized industrial storage solutions, Spacesaver has a nationwide network of local authorized representatives, The Spacesaver Group, who sell and support their industry-leading, innovative storage solutions. Spacesaver's commitment to sustainable product design began with the foundation of the business in 1972 by Theodore W. Batterman. Increases in land, building and energy costs, enabled him to create a new industry with high-density mobile storage solutions. Celebrating 40 years of success in 2012, Spacesaver continues to produce storage and shelving solutions that are designed and manufactured to save space, time and resources for our customers while increasing efficiency, cost-savings and security. Spacesaver is a division of KI located in Green Bay, Wisconsin.