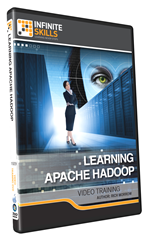 Learn Apache Hadoop at your own pace.
(PRWEB) May 07, 2014
Software training firm Infinite Skills Inc. this week introduced its "Learning Apache Hadoop Tutorial," an introductory course designed for developers teaching the basics of this innovative open-source approach to big data management.
Hadoop is known for its functionality as both a parallel processing and data storage engine. It provides a unique solution for large database workloads, operating on an open-source framework that runs on commodity hardware, providing a low-cost solution for big data loads.
With Infinite Skills' Learning Hadoop users can get familiar with the core functions and basic workflow of this powerful program, as well as an understanding of its distinctive position in the marketplace of big data solutions.
Learning Apache Hadoop Tutorial Video - Streaming
Course author Rich Morrow's career in open source development has spanned more than 20 years. He has worked with open-source platforms on every level, from hands-on programming to managing large teams and creating solutions for international companies. Founder and "chief geek" at Quicloud, Morrow currently offers consulting and training for cloud and big data solutions. He has worked with several Fortune 500 companies including AT&T, Nike, and Amazon.
Morrow begins with an overview explaining the historical context of big data in the current technological climate, and Apache's multifaceted capabilities to better serve data management.
From there, the course moves into Hadoop basics, looking at function's like MapReduce, Hadoop's run modes and job types, as well as its basic installation.
The course then explores fundamental tools and techniques, going into more depth with core functionalities like Hadoop's language and data warehousing infrastructure, as well as the industry-leading massively parallel processing (MPP) SQL query engine known as Impala.
Morrow closes with a look at data importing and exporting.
As Morrow explains, "In addition to providing a well-written abstraction layer for developers and a good fault-tolerant architecture, one of the big reasons Hadoop has seen such a wide-spread adoption is the low cost involved."
"It simply doesn't get any cheaper than free and open-source software running on commodity hardware."
Free demo videos and a full list of course contents can be found on the Learning Apache Hadoop Tutorial training page of the Infinite Skills website: http://www.infiniteskills.com/training/learning-apache-hadoop.html.
Infinite Skills offers its Learning Apache Hadoop in DVD format and as a direct download from the company website at a retail price of $49.95, or as part of its new subscription service at a rate of $25 per month. All titles and formats are compatible with Mac and Windows operating systems. Shipping is available around the globe. Additionally, Infinite Skills tutorials are supported by project files which correspond to examples in the videos, allowing users to work alongside experienced instructors right on their computer or iPad.
About Infinite Skills Inc.
A leader in the field of software training, Infinite Skills designs its courses on a task-oriented model, teaching complex skills by providing hands-on examples and guiding users as they carry out essential functions. Infinite Skills offers a wide range of software titles available as DVDs, digital downloads, and in iPad editions. Infinite Skills now offers a subscription service, providing access to all its training content for a monthly fee, keeping with company's aim of delivering professional training to customers anywhere they want to learn.