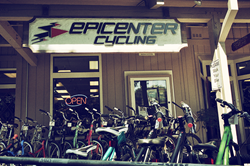 "REV'D® is excited to be working with Epicenter. They are one of the finest bike retailers in the country and are located in one of the premier cycling communities in the world," says Matt O'Connor of Rev'd Provision Co.
Newport Beach, CA (PRWEB) May 07, 2014
Rev'd Provision Co. announced today that REV'D® maca superfood bars are now sold at Epicenter Cycling. With locations in both Aptos and Santa Cruz, Epicenter Cycling is one of the premier road and mountain bike cycling retailers in California. The stores are situated within riding distance of the famous state park mountain bike trails of Aptos as well as in close proximity to the Pacific Ocean and the dozens of trails throughout the Santa Cruz area. Epicenter is dedicated to supporting cycling advocacy efforts driven by local advocacy organizations.
Former downhill pro Shawn Wilson and his fiancé Kazia Pennino established Epicenter Cycling in 2009. Founded on the basic principal of bringing a full service bike shop that embodies community spirit and involvement, Epicenter has served as a major hub of everything and anything that is cycling in this close-knit, Northern California community. Epicenter Cycling plays a major role in the local cycling scene with free community group rides for all levels, bike demos, repair clinics, dig days, and family style BBQ's. They also have a large selection of rentals and demo bikes for all needs and abilities. Epicenter also supports and sponsors pro mountain bike riders, Cam and Tyler McCaul, also from Aptos California and sponsored by REV'D® as well.
Epicenter's mission is simple. "To use our knowledge and enthusiasm to support the cycling community and promote healthy lifestyles." Epicenter takes an incredible amount of pride in creating a positive and friendly environment, having knowledgeable mechanics that want to help you and an accommodating sales staff that will support you in every purchase!
Epicenter Cycling http://www.epicentercycling.com
Aptos Location:
8035 Soquel Dr. #23
Aptos CA. 95003
(831)662-8100
Santa Cruz Location:
1730 Mission St.
Santa Cruz CA. 95060
(831)423-9000
REV'D® maca superfood bars represent the next level of nutrition bars. Maca was eaten centuries agao by Incan warriors to prepare for battle. Maca represents ancient nutrtion for today's world-class athletes and weekend warriors. REV'D® bars are non-GMO and made with wholesome ingredients you can pronounce, like oats, dates, nuts, and superfoods like cocoa and organic Peruvian maca. REV'D® supports cycling by sponsoring world-class athletes like Brett Rheeder, Cam McCaul and Tyler McCaul. REV"D® also supports the cycling community by sponsoring fun and exciting grass-roots events like the Outlaws of Dirt SeaOtter Sender best trick contest. REV'D® maca superfood bars help athletes Go Harder Longer™.
ABOUT REV'D PROVISION CO.
Rev'd Provision Co. LLC is a small, passionate company that makes premium, Non-GMO superfood nutrition bars with organic Peruvian maca. REV'D® bars provide the world's most exciting athletes with extreme nutrition, satisfaction and amazing taste that can go anywhere. REV'D® bars are Non-GMO and contain no artificial colors, flavors or preservatives. No trans fat. No hydrogenated oils. No high fructose corn syrup. No low fructose corn syrup. No corn syrup, period. We value innovation, positivity and empowering youth. We support cutting edge athletes, artists and musicians. We are passionate about freedom of expression and individuality. Welcome to the REV'D® Life.
http://www.revdlife.com
http://facebook.com/revdlife
SOURCE: REV'D PROVISION CO.