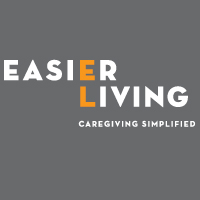 It is estimated that more than 65 million U.S. adults serve as family caregivers.
Dedham, MA (PRWEB) May 07, 2014
Each May, the Administration for Community Living (ACL) recognizes "Older Americans Month" – a time to honor older Americans for their contributions and demonstrate the nation's commitment to helping them stay safe and active. Yet as the number of older Americans grows, so does the number of family caregivers who are instrumental in ensuring they get the proper care. In fact, it is estimated that more than 65 million U.S. adults serve as family caregivers today.
EasierLiving, an online shopping site and information resource dedicated to helping people of all ages live their best lives through simplified caregiving, is kicking off a month-long celebration of "Older Americans Month" at this week's AARP's Life@50+ National Event, May 8-10, in Boston (Booth #3030). In addition to introducing itself to the over-50 crowd, EasierLiving is using the event to discuss the evolving definition of the family caregiver and remind those people who dedicate their time, money and resources to care for their loved ones that they must also care for themselves.
For caregivers, finding the time to care for older family members requires proper planning and prioritizing. Doing so can be a daunting task, but the following six tips can help:

Ask for help: Ask a relative or friend to share caregiving responsibilities, giving you more time to tend to other areas of your life. If you are hesitant to do this, start small. Ask someone to help you find home health products, research new information about health conditions and treatments or help with other small jobs.
Visit often: Quick, unannounced visits to older family members gives invaluable insight into their daily routines and help determine whether they need additional assistance. Look for signs that the house isn't as well tended as it used to be (laundry piling up, sink full of dishes, cluttered surfaces, etc.). These are indications that your loved one is having trouble with daily tasks and that professional help might be needed.
Speak to neighbors: Many older family members will have established friendly relationships with neighbors. These people are some of the best resources for caregivers – especially those who don't live close enough to visit often. Exchange contact info and keep in touch. Let them know to reach out to you not just for emergencies but if they notice any changes in daily routines.
Call often and ask lots of questions: If your loved ones live alone, they can get lonely. Your presence in their lives is important and calling often can lift their spirits and give them the chance to voice any concerns regarding their health.
Consider your personal situation: At some point, caregiving duties may lead to job changes or family moves. As selfless and as good as your intentions may be, caregivers must keep their own future well being, health and financial security in mind too.
Spend time outside the home: Find time to spend a day with your loved ones. Take a trip to the mall or go for a scenic drive. This will ensure that you connect socially and strengthen your bond, rather than only focusing on their health conditions and home care.
EasierLiving has created a community where caregivers can go for care tips, information and products – for both themselves and those they care for. Through EasierLiving's articles, active blog, Caregiver Coffee video series, and its Twitter, Facebook and Pinterest presence, caregivers can reach out with questions to other caregivers, find out what to expect and what they might need to make life easier along the way.
Visit EasierLiving at Booth #3030 to win a Caregiver Gift Pak at AARP Life@50+ and to learn more about caregiving tips and ways to ensure not just older family members but everyone they care for lives their best possible lives.
About EasierLiving
EasierLiving is a one-stop online store and care information resource created to simplify life for the family caregiver. The company's products and information promote self-respect by offering a broad line of superior home healthcare products for a wide range of health conditions that empower people to remain independent and live their best lives. The EasierLiving social media community also provides family caregivers with an opportunity to connect to real people who face similar circumstances for resources, up-to-date information and unwavering support. http://www.easierliving.com