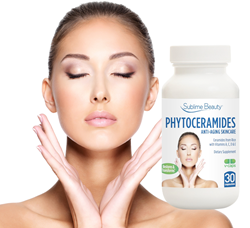 Sublime Beauty® designed an easy 6 step system to enhance Phytoceramide use, all aimed at healthy skin and well-being.
St. Petersburg, FL (PRWEB) May 08, 2014
Anti-aging skin care became much easier with Phytoceramides! Just take one capsule per day and see results in a month.
But Sublime Beauty® knows results can go even further. The company designed an easy 6 Step System to Enhance Use of Phytoceramides, also available on the website and webstore product page.
"Phytoceramides are a natural way to replenish your natural skin, helping it to become moisturer, fresher and more protected," says Kathy Heshelow, founder of Sublime Beauty®. "Understanding skin science, we suggest other simple steps to get even better results."
One of these steps is dry Skin Brushing. This ancient art of caring for skin and body helps well-being and the turnover of skin to reveal new ceramides. The company has a full website devoted to Skin Brushing and has helped thousands discover it. A number of models and actresses swear by it.
Dry brushing helps remove toxins and dry cells from the skin so it can operate optimally. Skin is our largest body organ, helping with elmination as well as protection. Ceramides form a key part of protection in the skin.
Skin Brushing also boosts blood circulation, moves the lymphatic system and invigorates among other things. Always brush towards the heart and use natural bristles. Full instructions are on the Skin Brushing website.
Other steps for Phytoceramide enhancement include boosting collagen and proper facial exfoliation.
ABOUT: Sublime Beauty® is a quality skincare company that focuses on products to "Age Younger". Products help to boost collagen, hydrate, relax wrinkles and improve skin. A niche includes healthy Skin Brushes. The company webstore offers free standard shipping and a VIP Club. Products also available on Amazon.