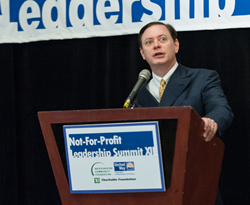 Tarrytown, N.Y. (PRWEB) May 08, 2014
For the twelfth consecutive year, volunteer and professional leaders from across the nonprofit sector gathered at the sold-out Not-For-Profit Leadership Summit XII at the Doubletree Hotel in Tarrytown Monday, May 5. Presented by the United Way of Westchester and Putnam in partnership with the Westchester Community Foundation, this year's event welcomed the sold-out crowd of more than 700 who participated in breakout sessions led by nonprofit experts covering a wide range of platforms from branding to organizational restructuring. Keynote speakers, NYS InterAgency Coordinator for Not-for-Profit Services Fran Barrett and worldwide bestselling author and social activist Andrew Solomon, were among the highlights of the summit.
Solomon captivated the audience with emotional vignettes of his experiences interviewing families for his most recent work, Far From the Tree: Parents, Children and the Search for Identity. In this book, Solomon explores how families coping with children who have disabilities, including deafness, dwarfism, Down syndrome, autism, schizophrenia, and children who are gay or transgender – many of which are circumstances that local nonprofit organizations provide support for. "We live in a time of extraordinary social and scientific process," Solomon said. "It is important that we continue to strengthen our efforts on the fronts of self-acceptance, family acceptance, and acceptance in the larger society."
Deputy Westchester County Executive Kevin Plunkett and Congresswoman Nita Lowey thanked the organizations in attendance for their tireless efforts in helping the local community. Further, Joanna Straub, executive director of Nonprofit Westchester, presented findings from a joint study between the Johns Hopkins Center for Civil Society Studies and Nonprofit Westchester on the state of Westchester's nonprofit organizations. In 2013, employment in the nonprofit sector accounted for 13.6 percent of the county's total workforce, with more than 53,000 paid workers – making Westchester's nonprofit sector the largest industry in the county, Straub said. "With numbers there is power," Straub said. "We all have one goal, which is to create a more just and caring community."
Fran Barrett, appointed by Governor Andrew Cuomo as liaison to the nonprofit sector in 2012, also spoke as a keynote about developments in the Grants Reform program, including the standardization of systems and streamlined online process for prequalification and contracting. Barrett emphasized the importance of creating partnerships to encourage change: "All too often, the nonprofit sector is invisible," Barrett said. "We have to find ways to argue for the viability of the sector."
The Not-for-Profit Leadership Summit was a day-long marathon of networking, innovation, and motivation for the region's many nonprofits, both large and small. More than three dozen leading professionals in various fields including finance, education, and law, shared tips on topics such as branding, leadership transition, organizational restructuring, crowd funding, social media in the workplace, and profitable fundraising techniques. The event was underwritten in part by TD Charitable Foundation.
For more information about the United Way of Westchester and Putnam, please visit http://www.uwwp.org or call 914-997-6700. Follow United Way on Facebook (http://www.facebook.com/UnitedWayWP) and Twitter (@UnitedWayWP) for the latest news and updates.