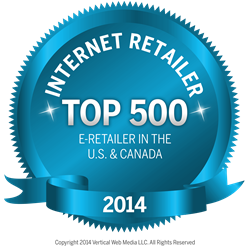 This is the kind of cool stuff that we see happen to other people. The fact that it is us, is unbelievable.
Fargo, ND (PRWEB) May 09, 2014
RealTruck.com today announced it has been recognized as the 20th fastest-growing e-commerce site in the United States by online retail trade publication Internet Retailer in its recently published 2013 Top 500 Guide. The influential guide also lists the North Dakota-based pickup truck accessory e-retailer as the 437th largest online store nationwide based on total revenue for 2013. It marks the first time the company has ever been included in the influential magazine's list, which recognizes the 500 largest e-retailers in the country. Other companies included in the publication's top 25 fastest-growing online retailers include NoMoreRack.com (3), JackThreads.com (17), and One Kings Lane (24).
"Competing on a national basis, with a company made up of everyday folks from North Dakota, is a real honor. Being recognized by Internet Retailer is icing on the cake," said Scott Bintz, RealTruck.com CEO. "This is the kind of cool stuff that we see happen to other people. The fact that it is us is unbelievable. We are grateful to be included on the same list as so many other great companies. We've grown at an exponential rate over the past few years, thanks to our commitment to our company culture and guiding principles, along with great partners and amazing folks working at RealTruck."
Additionally, RealTruck.com was also recognized by the following competitive metrics:
17th in full-time employee growth, 14th fastest-growing e-commerce site based on online sales alone (excluding call center, retail, and catalog sales), and 11th in revenue in the Automotive Parts/Accessories category.
RealTruck.com ended 2013 with $28.5 million in revenue and enjoyed 63.1% overall sales growth over its performance in 2012. It was also recognized by Internet Retailer in 2013 as the 8th fastest-growing mobile e-commerce site in the world, and placed 15th in its Second 500 Guide that same year. The company attributes its growth and success to the investments it has made to its corporate culture, which emphasizes open communication, freedom of personal expression, going above and beyond the status quo, and making work fun.
"For us, making it onto Internet Retailer's Top 500 Guide for the first time is an affirmation that the efforts we've made over the past three years to reinvent our company's culture are paying off dividends," said RealTruck.com president Jeff Vanlaningham. "It shows what can be accomplished when you bring together a strong team of good people, get them behind a common cause, and encourage them to always deliver more than expected. As a North Dakota-based company built by our own profits, what we lack in investment backing, we more than make up for with the caliber of our staff."
About RealTruck.com
RealTruck.com is a successful online retailer specializing in aftermarket pickup truck accessories. Founded by CEO Scott Bintz in a duplex basement in the late 1990s, the company relocated its headquarters to Jamestown, N.D. in 2000 and added a satellite office in Fargo, N.D. in 2010. The growing e-commerce enterprise, which placed 2322 on the 2013 Inc 5000 list, currently has more than 60 employees and offers over 500,000 accessories for all of the top pickup truck and sports utility vehicle makes and models on the market today. Driven by a unique set of Guiding Principles, its mission is to improve people's lives and vehicles.