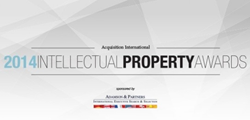 Having assessed the votes, analyzed the supporting evidence and examined your accomplishments and achievements, Pegasus Intellectual Capital Solutions has emerged as a clear winner of this prestigious title within our 2014 Intellectual Property Awards
London, UK and Chicago, IL (PRWEB) May 09, 2014
Acquisition International today announced that Pegasus Intellectual Capital Solutions was named 'Transactional Intellectual Property Consultant of the Year- USA'
Charlotte Abbott of Acquisition International stated "Having assessed the votes, analyzed the supporting evidence received and examined your accomplishments and achievements in the USA over the past year, Pegasus Intellectual Capital Solutions has emerged as a clear winner of this most prestigious title within our 2014 Intellectual Property Awards. The 2014 Intellectual Property Awards are given solely on merit and are presented to commend those most deserving for exceptional service in IP across a variety of sectors including: Biochemistry, Physics, Mechanical Engineering, M&A and Entertainment. The awards are given solely on merit and are presented to commend those most deserving for exceptional service over the last 12 months."
The award will be published in Acquisition International's 2014 Intellectual Property Award Winner's Supplement which will be distributed to Acquisition International's subscriber base of over 53,000 individuals and 15,000 IP professionals.
In response to the announcement by Acquisition International, Charles Smith, founder of Pegasus Intellectual Capital Solutions LLC stated: "We are very honored to be recognized by our peers, competitors and IP attorneys, and to have that recognition authenticated by an entity as prestigious as Acquisition International. 'Intellectual Capital' is our middle name, and is derived in large part from the value inherent in intellectual property including not just patents, but trade secrets, trademarks and copyrights, with the remainder coming from human capital, relational capital, and structural capital. I look forward to continuing our leadership in IP for middle market companies and small to medium sized entities."
About PegasusICS:
PegasusICS is a Chicago based investment bank that advises and assists companies on capital raising, mergers and acquisitions – including cross-border – exit planning, restructuring and workout, and shareholder value maximization. PegasusICS operates across North America as well as internationally. The partners of PegasusICS have consummated over three billion dollars in transactions with a former client base ranging from leading lower middle market enterprises to Fortune 100 companies. PegasusICS operates across the U.S. as well as internationally.
PegasusICS is a leader in Healthcare, Food and Beverage, Agriculture, Manufacturing, Technology and Extractive Energy investment banking services. Pegasus Intellectual Capital Solutions was named "2013 Investment Banking Boutique of the Year" by Acquisition Finance Magazine, "Investment Banking Boutique of the Year 2013 – USA" by Intercontinental Finance Magazine, and selected for the distinction of "Top 200 Investment Banks and Boutiques" by American Registry. On March 24, 2014 PegasusICS was named 'Agribusiness Sector M&A Advisory Firm of the Year – USA' by Corporate Intl Magazine.
About Acquisition International
Acquisition International is a monthly magazine published by AI Global Media Ltd. AI works alongside leading industry analysts to ensure publication of the most up-to-date figures and analysis. Through its regular features including the Deal Diary, the Deal Guru, Cover Stories and their regional, sector and specialist reviews, AI thoroughly researches and publishes corporate finance news in cooperation with the leading professionals in the industry. AI has a global circulation, which brings together all parties involved in deal making and in an increasingly global deal market are uniquely positioned to reach the dealmakers that matter. AI also recognizes and honors the leading dealmakers in their awards supplement, in which they combine votes alongside in-house research data and industry expertise to finalize the shortlists and the overall winners. AI's awards are given solely on merit.
Media Contacts:
Charlotte Abbott
Acquisition International
charlotte.abbott(at)ai-awards(dot)com
Telephone: +44 (0) 1283 712447
###