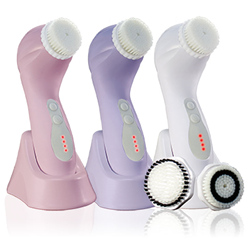 This is one of our most popular products and the demand has been out of this world.
Woodland Hills, CA (PRWEB) May 15, 2014
In a never-ending, fast-paced world, millions of Americans have poured money into buying skincare products to help fight common dermatological conditions such as acne, scarring, oily patches and other skin impurities. As a result, cosmetic industry has seen a boon in the sale of various cleansing, exfoliating brush kits and systems, many of them are made by the industry's leader ClariSonic, that promise to fight skin impurities by penetrating and exfoliating deeply into the skin layer. Results have been mixed, however, due to the fact that most brushes sold on the market still operate using an old-tech rotary technology that offers inferior cleansing. These brushes contain a bristle-spinning technology that spins quickly but fails to penetrate the skin, resulting in deep-seated skin impurities that are not fully removed. A new breed of brushes offer sonic, multi-directional pulsating and vibrating brushes that squeeze, move, push and twist the deep layers of the skin, unclogging pores, clarifying and cleansing the skin fully.
The ProSonic GLOW Face & Body Cleansing Exfoliation Brush Set was recently launched as the long-awaited, updated version of the original product which has sold over one million units. Ariel Perets, CEO of the manufacturer, BeautyOra explains: "Customers were amazed at how effective the old ProSonic GLOW was in helping to clear complexions and fight with anti-aging. This new Prosonic GLOW has been re-tooled and improved in so many ways, I think they will be very pleased with the results."
The new ProSonic GLOW offers updated features over the older version, including faster speeds and a battery lifespan increase that lasts at least 20% to 30% longer than other leading competitors. Additionally, the newer version contains a bonus pumice stone brush head for treating dry skin areas (i.e. elbows, feet). The cleansing brush head has a concave shape which cleanses around the contours of the face and is a new feature not found in other devices. The body brush head of the Prosonic GLOW is 35% larger than the previous version, allowing for coverage of larger surface areas. The new ProSonic GLOW boasts a new memory function that enables the device to start with the last cleansing speed and an automatic shut-off that turns the device off after eight minutes of continuous use, preventing battery drainage. Additionally, the new ProSonic GLOW boasts a sound feature that is activated when the device is turned on or off and a charging light indicator that blinks until the device is fully charged.
In addition to the superior, state-of-the-art sonic technology, the Prosonic GLOW boasts three speeds (low, medium and high) whereas other brands have only one or two, and four complementary brush heads while competing brands typically contain only two. The ProSonic is cordless and rechargeable, while many lower-entry brands still operate via battery, as consumers prefer rechargeable cordless devices. The device kit also contains a complementary Cleanser and Microdermabrasion Cream while other brands come with none. While other brands may or may not be water-resistant, ProSonic GLOW offers a higher-level certification of being water-proof, which means it can withstand cleansing in the shower far better than competing brands.
To learn more about the ProSonic GLOW, please visit http://www.beautyora.com and to interview Ariel Perets, CEO of BeautyOra, please contact Kelly at customercare(at)beautyora(dot)com or call (818) 883-3300 ext 105.