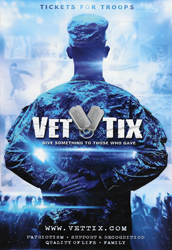 Phoenix, AZ (PRWEB) May 08, 2014
Veteran Tickets Foundation (Vet Tix) was featured on Great Non-Profits hitting the number one spot in Top Rated Non-Profits of 2014 under veteran issues.
Vet Tix was originally listed on the Great NonProfits.Org at number 5, but with the support of their loyal veterans, beneficiaries, friends, and followers, Vet Tix has received top rated reviews, moving the locally operated and nationally renowned non-profit into the number one spot.
"We at Vet Tix are honored to have such great supporters," says Mike Focareto, CEO of Veteran Tickets Foundation. "We are inspired every day by our currently serving military, veterans and their families. There are many ways to show appreciation to those who have served, but the simple gesture of inviting veterans and their families to enjoy the competition and entertainment of a game, is worth all the joy and smiles for those who have served America."
Vet Tix is a national nonprofit 501(c)(3) organization that partners with major sports teams, leagues, colleges, promoters, organizations, individuals and ticket holders to provide donated tickets to sporting events and shows to military members and veterans. Active duty military and honorably discharged veterans from all branches of service, as well as families of those killed in action are eligible to receive tickets. Since 2008 Vet Tix has grown tremendously, donating more than 900,000 tickets to veterans and their families.
214 reviews have already been written; to write a review or see reviews on Vet Tix, please visit the website below: http://greatnonprofits.org/org/veteran-tickets-foundation.
About Veteran Tickets Foundation:
Veteran Tickets Foundation (Vet Tix) is a national 501(c)(3) nonprofit foundation supporting our military community. Vet Tix provides free event tickets to currently serving military, veterans and family members of KIA to sporting events, concerts, performing arts and family activities. Our military and veterans experience many difficult transitions as they reintegrate back into their families, their communities and eventually civilian life. Attending these events improves morale, strengthens family bonds through shared interests and encourages service members to stay engaged with local communities and American life. In gratitude for their service and to support their reintegration, Vet Tix is dedicated to giving back to those who gave us so much. Please visit our website http://www.VetTix.org.
Follow us on Twitter and Facebook.
###
For more information, please visit Veteran Tickets Foundation website or contact Tiffany Hoffman at Tiffany(dot)hoffman(at)maagcommplus(dot)com.