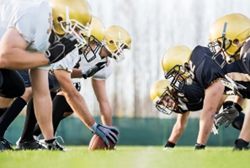 Worcester, MA (PRWEB) May 07, 2014
Building off of a 2013 study that showed significant value in second-round NFL draft picks, a student team at Worcester Polytechnic Institute (WPI) has updated the study to reveal that both second- and third-round picks provide significant value, and that there is lower, but less variation in fourth- through sixth-round picks.
The study, released this week, once again contrasts with the popularly held view that first-round picks provide the best value. It also raises questions about the accuracy of the draft pick value table that has traditionally been used by teams in making trades. The 79th annual NFL draft takes place May 8-10 in New York City.
The WPI team analyzed the 2012 and 2013 draft classes, and found that second round picks represent the best performance relative to a player's selection in the draft with about 70 percent of the production of first-round picks but at just 44 percent of the salary. Similarly, third-round picks provided close to 70 percent of the production of first-round picks but at just 28 percent of the salary.
"In terms of draft strategy, what these results tell me is that if I want to maximize the talent I'm bringing in, then second- and third-round picks are really the sweet spot," said Craig Wills, the head of WPI's Department of Computer Science, who advised four WPI undergraduates on the updated study.
Given the findings, Wills said it makes sense for teams to consider four strategies: trade down out of the first round for multiple picks in the second and third rounds; trade up out of rounds four, five, and six to get into the second and third rounds; trade down fourth-round picks for multiple fifth- and sixth-round picks; and use seventh-round picks as needed to facilitate trades as teams can find comparable players as undrafted free agents.
On the third point, Wills notes that in fourth round, the chances of getting a "value player" is comparable to earlier rounds. "So it's better to accumulate more players and trade out of the fourth round for a fifth- and sixth-round pick, where we're seeing comparable value," he said.
The report also raises an interesting question as to whether teams continue to use the traditional draft pick value table for making trades or whether a different compensation model emerges based on the reported results. It goes on to speculate that there may be fewer draft deal days as teams have a harder time agreeing on the relative value of picks. To this point it has been widely reported that the Houston Texans would like to trade down the top pick in the draft, yet thus far have not been able to find a trade partner where the teams can agree on the relative value of the picks.
WPI researchers once again used two metrics for measuring the success of drafted players. The first metric, known as Approximate Value, was developed by Doug Drinen, the founder of pro-football-reference.com. The metric assigns a value to each player's performance for a season. The second metric, known as Appearance Score, was developed by WPI and is based on a weighted score for games played, games started, and recognition as a top player.
The Approximate Value metric, for instance, supports the study's findings, and shows that three of the top five rookie performers in 2013 were drafted in the second and third rounds: Green Bay Packers running back Eddie Lacy (second-round pick), Buffalo Bills linebacker Kiko Alonso (second-round), and San Diego Chargers wide receiver Keenan Allen (third-round). Additionally, using the Appearance Score metric, second-rounder Lacy is the top performer.
Four WPI students, all seniors, worked on the study with Wills. They are Casey Barney, Anthony Caravella, Michael Cullen, and Gary Jackson. The initial study was conducted last year as part of the students' interdisciplinary project, which is typically completed in the junior year.
To view the 2014 study, visit Update: Evaluating Talent Acquisition Via the NFL Draft.
About Worcester Polytechnic Institute
Founded in 1865 in Worcester, Mass., WPI is one of the nation's first engineering and technology universities. Its 14 academic departments offer more than 50 undergraduate and graduate degree programs in science, engineering, technology, business, the social sciences, and the humanities and arts, leading to bachelor's, master's and doctoral degrees. WPI's talented faculty work with students on interdisciplinary research that seeks solutions to important and socially relevant problems in fields as diverse as the life sciences and bioengineering, energy, information security, materials processing, and robotics. Students also have the opportunity to make a difference to communities and organizations around the world through the university's innovative Global Perspective Program. There are more than 35 WPI project centers throughout North America and Central America, Africa, Australia, Asia, and Europe.
Contact:
Andy Baron, PR & Media Associate
Worcester Polytechnic Institute
Worcester, Massachusetts
508-831-5916, ajbaron(at)wpi(dot)edu