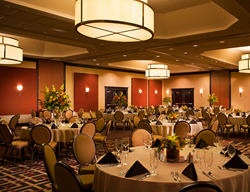 The 70th Anniversary of D-Day will be honored at the Sheraton Roanoke Hotel & Conference Center.
Roanoke, VA (PRWEB) May 16, 2014
The Sheraton Roanoke Hotel and Conference Center will welcome over 400 people on June 6th to honor the 70th anniversary of D-Day, including 63 D-Day/WWII veterans from the Roanoke Valley and neighboring states. A special evening is planned, with remarks from several D-day and WW II veterans, including one of the survivors of the attack on the USS Franklin by a Japanese dive bomber, a veteran from Iwo Jima, a pilot of B24 who was shot down over France and became a POW.
Civil and Military dignitaries from the Unites States of America, Republic of France, United Kingdom, Northern Ireland, and Canada will be present and will include special speaker Mr. Frédéric Doré, Chargé d'Affaires from the Republic of France. A French representative will bestow the French Legion of Honor in the rank of Knight upon D-day veterans Don Englar of Blacksburg, VA and Tyre Nicholson of China Grove, NC. In addition, a show sponsored by WDBJ7 will feature music of the 1940's, and French Soldiers, along with soldiers from Company A 1-116th, will provide the Color Guard.
A full evening is scheduled to celebrate the 70th anniversary of D-Day at the Sheraton Roanoke Hotel and Conference Center. Doors open at 5:45pm on June 6th, with dinner served at 6:30pm, followed by a 7:15pm program start. For further information, please call 540-525-0298 or email info(at)pentacorporation(dot)org.
About the Sheraton Roanoke Hotel & Conference Center
The Sheraton Roanoke Hotel & Conference Center is located just minutes from Downtown Roanoke at the base of the beautiful Blue Ridge Mountains. Guests enjoy easy access to Roanoke attractions like Virginia Tech, River's Edge Sports Complex, Roanoke Civic Center, Taubman Museum of Art, Roanoke College, Hollins University, Valley View Mall and a variety of local shopping and dining. The hotel offers generous amenities such as free high-speed Internet access, plush Sheraton Sweet Sleeper™ Beds, in-room free Starbucks® Coffee, a free airport shuttle to and from the Roanoke Airport (ROA), 17,000 sq. ft. of versatile meeting space ideal for weddings and special events and an in-house dining experience, Shula's 347 Grill. At our hotel, Sheraton Club Members enjoy breakfast, afternoon appetizers and choice of beverages at no extra charge. The Sheraton Roanoke Hotel and Conference Center is proudly managed by Stonebridge Companies in Denver, CO.
Founded in 1991 by Navin C. Dimond, Stonebridge Companies is a privately owned, innovative hotel owner, operator and developer headquartered near Denver, Colorado. The company's current portfolio entails 45 hotels with over 7,000 rooms nationwide. This diverse listing of properties includes select-service, extended-stay, mid-scale and full-service hotels in markets throughout the U.S. For detailed information, visit our website at http://www.SBCOS.com.