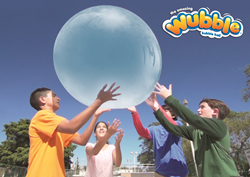 It's the closest a kid can come to playing with a real giant bubble.
New York, NY (PRWEB) May 13, 2014
Just in time for spring and summer play, NSI International Inc. has introduced the Wubble™ Bubble Ball, a durable, lightweight, real bubble come to life.
The amazing Wubble™ bubble ball looks and moves like a bubble, but you can play with it like a ball. It floats, wobbles, dribbles, jiggles and makes cool noises. Children can kick it, slam it, throw it, bounce it, smoosh it and smash it; it's like no other ball your children have played with before.
Made from a unique thermo-stretch material, the Wubble™ bubble ball's patent-pending technology makes it squishy, strong and incredibly lightweight. It comes with a battery-operated air pump and easily inflates in about three minutes. Great for outdoor or indoor use year-round, the Wubble™ ball is durable, reusable and washable. It inflates to 3 feet tall but deflates quickly for easy storage.
"Just like a real bubble, it mutates into crazy shapes as it floats through the air. But it's not fragile like a bubble. The Wubble™ is in a category all by itself! There is simply nothing like it," says NSI President Frank Landi.
"It's the closest a kid can come to playing with a real giant bubble, which is exactly what my kids asked for when the idea came to life almost three years ago," said Landi.
The Wubble™ bubble ball comes in six colors: blue, green, orange, pink, purple and red. The starter set comes with a portable pump and deflator (for easy storage) and retails for under $25. Individual Wubble™ bubble balls will be sold for under $15. All Wubble™ bubble balls are backed by a limited replacement warranty.
The Wubble™ bubble ball is available online at Wubbleball.com.
The Wubble™ bubble ball will be available for purchase at Target stores nationwide in the sporting goods section at the beginning of June and other major retailers in early August.
Follow Wubble™ bubble ball on Facebook and on Twitter.
XXX
ABOUT NSI INTERNATIONAL INC.:
NSI International Inc. is a global marketer and manufacturer of innovative toys and children's products under such established brands as Nickelodeon, Smithsonian and Oglo sports. NSI is headquartered in New York City, and its products can be found in thousands of retail locations in more than 30 countries around the globe. © 2014 NSI International, Inc. All Rights Reserved.