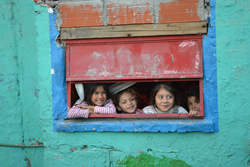 "The Global Walkathon exemplifies the 'unity' in UTi's diverse worldwide community," said Glen Mills
Long Beach, California (PRWEB) May 07, 2014
UTi Worldwide Inc. (Nasdaq: UTIW), a global supply chain services and solutions company, is proud to announce that the corporation's primary charitable event, the DBL Global Walkathon, will commence May 18 and run for two weeks.
The Global Walkathon is organized under UTi's corporate and employee supported charitable foundation, Delivering Better Lives, which provides facilities to deliver education, health services, housing and other community infrastructural needs in the 59 countries where UTi has its own operations.
"The Global Walkathon exemplifies the 'unity' in UTi's diverse worldwide community," said Glen Mills, executive trustee of the UTi Charitable Foundation. "It is truly inspiring to see the global effort from our colleagues as teams come together to support improving the conditions and lives of those less fortunate around the world."
UTi's workforce will form teams and either walk or hold other team events to raise money during a two week period between May 18 to 31. In the past, teams have hosted barbeques; Spain held a golf event; speed skating in The Netherlands; even a swim across the Bosporus Strait.
"There is such an outpouring of love and compassion embodied by our Global Walkathon," said Mills.
Since its inception in 2007, the Walkathon has been instrumental in funding projects in various UTi regions. In the last two months, DBL has funded the building of schools in Zimbabwe, South Africa, Bangladesh, and Cambodia. Funds raised by this year's annual event will be applied to a project in Argentina. DBL will assist in the construction of a new shelter for young people in a disadvantaged area where there is limited social or financial support.
Members of the UTi family are encouraged to share their personal journeys during the Global Walkathon by tagging @UTi_worldwide in their social media posts and using the hashtag #deliveringbetterlives to share what they are doing during this great event.
About UTi Worldwide
UTi Worldwide Inc. (http://www.go2uti.com) is an international, non-asset-based supply chain services and solutions company providing air and ocean freight forwarding, contract logistics, customs brokerage, distribution, inbound logistics, truckload brokerage, and other supply chain management services. The company serves a large and diverse base of global and local companies, including clients operating in industries with unique supply chain requirements such as the retail, apparel, chemical, automotive, pharmaceutical, and technology industries. The company seeks to use its global network, proprietary information technology systems, and relationships with transportation providers, and expertise in outsourced logistics services to deliver competitive advantage to each of its clients' supply chains.