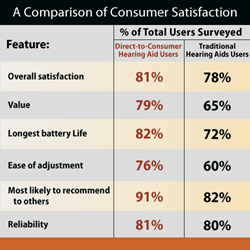 It is possible to enjoy better hearing without spending thousands of dollars.
Chicago, Ill (PRWEB) May 28, 2014
Hearing loss affects 36 million people in the US. Surprisingly, 4 out of 5 people whose hearing could be improved by using hearing aids go untreated.
The high cost of hearing aids has discouraged consumers for years. Consumer Reports Magazine reports that hearing aids cost $1800-6800 per pair when obtained through the traditional channels of physicians' and audiologists' offices.
However, a recently published study has some good news for those consumers on a budget. The Better Hearing Institute reports that direct-to-consumer (mail order) hearing aids are just as beneficial as traditional, expensive hearing aids, yet the consumer enjoys an 80% cost savings with mail order hearing aids.
The study also found that mail order hearing aid consumers are empowered to adjust the fit and settings of their hearing aids. Overall, these users achieve higher overall satisfaction rates and are more likely to recommend their hearing aid brand to others than those who purchase traditionally dispensed aids. Click here to view comparison chart.
The Better Hearing Institute study came as no surprise to Dr. Sreek Cherukuri, founder of MDHearingAid, Inc., one of the largest direct-to-consumer hearing aid companies. "When we started out in 2009, there was some uncertainty in the marketplace, but I was determined to help my patients who couldn't afford the thousands of dollars that traditional hearing aids cost."
"It is gratifying to see a scientific study confirm what we and over 100,000 of our satisfied customers have known for some time – it is possible to enjoy better hearing without spending thousands of dollars," says Dr. Cherukuri.
About MDHearingAid, Inc.
MDHearingAid manufactures high quality, FDA-registered hearing aids starting under $200 and sells directly to consumers through its website and mail order. A Chicago Ear, Nose, and Throat (ENT) physician founded the company to make hearing health affordable and accessible for those who could not afford expensive custom-fit hearing aids. MDHearingAid® provides superior physician-, audiologist-, and hearing instrument specialist-backed customer service and support 24 hours a day, 7 days a week.