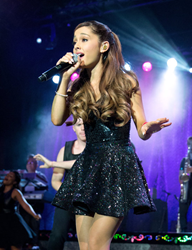 New York, NY (PRWEB) May 09, 2014
International pop sensation, Ariana Grande, released her first single from her new album last week and scored a record breaking digital debut. Nielson SoundScan reported that Grande's "Problem," released on April 28, bowed with 438,000 downloads in the week ending May 7. This puts her right behind Taylor Swift, Lady Gaga, and Katy Perry as the fourth-largest digital debut for a female artist, and overall the eighth-largest debut ever, according to Billboard.com. Additionally, she is the youngest woman to debut with more than 400,000 downloads.
This will be Grande's second release as a solo artist, following her debut album, "Yours Truly." Her first album made its way to number one on the U.S. Billboard 200, selling 138,000 copies in its opening week. Her leadoff track, "Honeymoon Avenue," was co-written by Tommy Brown, who also produced "Just Can't Get Enough" by the Black Eyed Peas, which reached #3 on the Hot 100 Billboard Charts. "Honeymoon Avenue" was also written by Travis Sayles, Roahn Hylton, and Victoria Monet. All of these writers and producers are part of the deep roster of One One 7, an international entertainment corporation. They also represent Harmony Samuels, who co-wrote and produced five songs on her debut album, including "The Way" which landed in the top-ten of the U.S. Billboard Hot 100 chart. Brown and Samuels will be involved in writing and producing her second album due out later this year.
Jason Davis, CEO and founder of One One 7, commented on Grande's recent debut:
"Ariana Grande is one of the most talented young pop artists in the industry at the moment, but her powerhouse vocals alone are only partially responsible for her massive success with 'Problem.' Her team has surrounded her with the best writers and producers in the industry, including many from our roster of talent, and this record breaking debut is a direct result of their collaborative effort. We are anticipating that the success of 'Problem' thus far is an indication of the success her second album will have when it is released this fall."
Sources
Billboard: http://www.billboard.com/articles/news/6077517/ariana-grande-problem-record-sales-debut-hot-100-chart
Photo: http://www.wenn.com