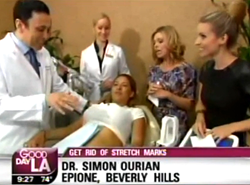 Los Angeles, CA (PRWEB) May 07, 2014
The May 2014 issue of Shape Magazine offers a list of common, everyday activities, the skin damage that can result from these behaviors, and what can be done to address the harm done. The list includes overindulging in sugar, straining when lifting weights, touching one's face, yo-yo dieting, and rubbing one's eyes. (See goo.gl/DT6Rp6).
"The article does a good job of pointing out activities such as weightlifting or bingeing on sugar that people may not realize has a detrimental impact on their skin's appearance," says Dr. Simon Ourian, Medical Director of Epione Beverly Hills. "For the most part, though, the solution provided is to simply stop doing the problematic behavior, something that's often easier said than done."
According to the article, eating sugar in large quantities can be just as damaging to the skin as stress, smoke, and excessive sun exposure. Eating sugar helps trigger a process called glycation that lead to destructive glycation end products or AGEs. AGEs have been shown to increase the risk of heart disease and diabetes, as well as take a toll on the skin's elastin and collagen, which help keep it youthful and smooth. Experts recommend limiting your sugar intake to less than six teaspoons per day.
Also important according to the report, is to avoid straining while lifting weights. Straining can trigger a drastic increase in blood pressure that, in turn, may cause the blood vessels in one's face to burst resulting in redness around the cheeks and nose. The article suggests employing the proper lifting technique to remedy this issue.
"Yo-yo dieting is a problem I'm particularly concerned with," says Dr. Ourian. "Not only does it increase the risk of high cholesterol and high blood pressure, it can also take a toll on one's looks. Weight fluctuation can cause the skin to sag on the face and body, specifically the breasts, butt and stomach. Stretch marks develop because the skin's collagen is unable to accommodate rapid weight changes. I recommend that all my patients maintain a healthy weight. It is normal for one's weight to fluctuate a little, but it is important to avoid the vicious cycle of dramatically gaining and losing weight."
Dr. Ourian has been a pioneer in laser technology and non-invasive aesthetic procedures including Restylane, Juvéderm, Radiesse and Sculptra. These treatments are used for the correction or reversal of a variety of conditions such as acne, acne scars, skin discoloration, wrinkles, stretch marks, varicose veins, cellulite, and others. More information about skin care can be found on Epione's website.