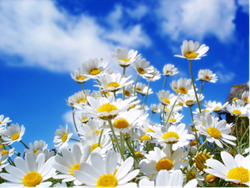 Orange, CA (PRWEB) May 12, 2014
The Daisy Down Payment and Closing Cost Assistance Program is a second loan that offers up to $7,500 towards down payment assistance and $7,500 towards closing costs upon borrower eligibility for the program. The maximum total for this program is $15,000 for owner occupied primary residences in specific counties in California. Counties included by the program include Alameda, Contra Costa, Los Angeles, Marin, Orange, Riverside, San Bernardino, San Diego, San Francisco, San Mateo, Santa Barbara, Sonoma, and Ventura.
Annual Percentage Rate on the program is 0% and may be forgiven after 36 months. The prorated balance due must be repaid if the property is sold, refinanced, non owner-occupied as the primary residence, or if the title is transferred within the first 36 months after the loan closes.
To be eligible for the program, the first mortgage maximum amount is capped at $400,000. The borrower's income must be less than or equal to 120% of the Area Median Income (adjusted for family size). Eligible properties include single family homes, 2-4 units, condos, and PUDs.
Homebuyer education courses are required to be completed by a HUD approved Counseling agency.
Daisy may not exceed 96.5% combined LTV with an FHA loan, and may not exceed 95% combined LTV with Conventional financing.
Benefits of the program include private mortgage insurance providing debt to income ratio relief due to the 0% APR and lower LTV.
Broadview Mortgage values the opportunity to educate consumers to understand which direction that their current or future mortgage is taking them in. If you have any questions about the information herein, feel free to reach out to the Author, Brittany Williams, at Brittany.Williams(at)broadviewmortgage.com. If you would like a quick pre-approval click here, and for assistance with down payment or buyer assistance, click here. You are also always free to give us a call toll free at (855) 692-7623.
Since 1988, Broadview Mortgage has distinguished itself through honest business relationships with clients, loyalty to employees, and commitment to empowering and educating those communities. Broadview Mortgage is a mortgage banker and direct lender made up of loan officers with years of experience in the firm and sheer excellence in customer service. The firm works to explore several financial solutions from which it's clients may choose. Business is initiated and conducted on a word-of-mouth basis. Broadview Mortgage is a delegated underwriter for the Federal Housing Administration (FHA), the Veterans Administration (VA), and the Federal National Mortgage Association (FNMA). Broadview is also approved to participate in several state, county and city programs for First Time Home Buyers.
# # #