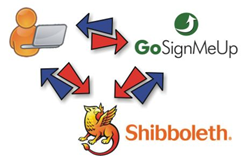 Irvine, California (PRWEB) May 08, 2014
GoSignMeUp has now integrated with Shibboleth for identity management and federated identity-based authentication and authorization. With Shibboleth, you can take advantage of "single sign-on" (SSO). SSO allows your users to sign in to GoSignMeUp and other different organizations or institutions using just one "identity". This allows for cross-domain single sign-on and removes the need for content providers to maintain user names and passwords.
Shibboleth is among the world's most widely deployed federated identity solutions, connecting users to applications both within and between organizations. A user authenticates with his or her organizational credentials, and the organization (or identity provider) passes the minimal identity information necessary to the service provider to enable an authorization decision. Shibboleth also provides extended privacy functionality allowing a user and their home site to control the attributes released to each application.
GoSignMeUp online class registration and management software saves training organizations time and money – and makes the user experience easier and more secure using Shibboleth.
GoSignMeUp also supports other SSO options thru an LMS (such as Blackboard Learn, Haiku, Safari Montage, or Canvas) or Google SSO.
About GoSignMeUp
GoSignMeUp is the leading provider of online class registration and professionaldevelopment management software. Used by organizations of all sizes and types, including corporations, health care, government agencies, and education--it is the preferred registration tool for professional development, continuing education, client education, and student enrichment. GoSignMeUp is ideally suited for face-to-face, online and hybrid class registration processes, and integrates with Learning Management Systems (LMS) such as Blackboard Learn. For more information, visit our website at gosignmeup.com, or call 1-888-286-4826.