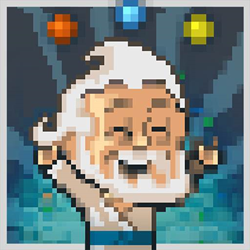 (PRWEB) May 08, 2014
The Sandbox by Pixowl is now available on Intel® Atom™ tablets for Android*, providing hours of challenging and entertaining gameplay.
The award-winning game, which counts over 10 million downloads up to date across all platforms and an extremely active community of 400,000 fans on Facebook, puts players into a virtual sandbox where they can use more than a 150 different elements to craft entire virtual worlds. Basic elements like water, soil, sand, glass and more complex things like humans, zombies, robots, dinosaurs, wildlife, animals and much more are used to create varied pixel universes, physics simulators, contraptions, electronic circuits, chiptunes music, stunning pixel art masterpieces, chain reactions and even game levels! To date, more than 550,000 user-created worlds have been shared in the Online Gallery.
In The Sandbox, each player has the power to create and destroy. Players can choose to play as a benevolent deity that gives life to majestic mountains and beautiful forests, or they can be a vengeful deity by spawning raging fires and devastating explosions. Once a new world has been created, players can share them in the online gallery.
Developers at Pixowl optimized The Sandbox for the powerful capabilities of Intel Atom tablets for Android*. It works fluidly with the high-resolution screen, touch interface and fast processing speeds as a visually stimulating and engaging game. As an Intel® Software Partner, Pixowl took advantage of guidance, code and other support from the Intel® Developer Zone during the optimization process.
"The Sandbox is a very enjoyable game that provides hours of creative entertainment on new Android* tablets," said Sebastien Borget of Pixowl "We were able to optimize The Sandbox for Android* tablets due in large part to the helped we received from the Intel Developer Zone."
The Sandbox is now available to download at Google Play:
https://play.google.com/store/apps/details?id=com.pixowl.thesandbox.android
About PIXOWL INC.
Founded in 2011 and headquartered in San Francisco, CA, with development studios in Buenos Aires, Argentina, Pixowl, Inc. is a mobile game company. Pixowl's experienced international team of dynamic innovators strives to meet and exceed the desires of mobile game players worldwide by blending exciting gameplay, comic book art and character-driven storylines.
With the success of its four iOS games, Doodle Grub, Safari Party, The Sandbox and Greedy Grub, Pixowl has already established itself as a leader in casual mobile games.
For more information about Pixowl, please visit http://www.pixowl.com or friend and follow them on Facebook and Twitter: @pixowl, https://www.facebook.com/PixowlGames
Copyright (C) 2014 Pixowl, Inc.
About the Intel Developer Zone
The Intel Developer Zone supports independent developers and software companies of all sizes and skill levels with technical communities, go-to-market resources and business opportunities. To learn more about becoming an Intel Software Partner, join the Intel Developer Zone.
Intel, the Intel logo and Intel Inside are trademarks of Intel Corporation in the U.S. and/or other countries.
*Other names and brands may be claimed as the property of others.
Copyright © 2014 Intel Corporation. All rights reserved.