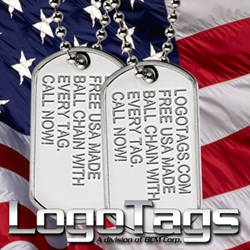 Mount Vernon, NY (PRWEB) May 08, 2014
LogoTags is now offering a 15 percent discount on its line of custom embossed text military dog tags through Memorial Day. These stainless steel rolled edge dog tags are the same style and dimensions worn by the military, and each tag includes a complimentary ball chain necklace manufactured in the USA by LogoTags' parent company, Ball Chain Manufacturing (BCM).
The dog tags can be ordered through the secure checkout process through the following link at the LogoTags website: http://www.logotags.com/mm5/product/EMBOSSED-TEXT-15.html. Customers can enter five lines of text and will have a choice of having it embossed on a matte or shiny tag. The tags will ship from the company's manufacturing facility in Mount Vernon, NY.
LogoTags is also currently running a dog tag promotion with the non-profit organization World War II Families for the Return of the Missing (WWRM). A special page has been set up on the LogoTags website where there is a searchable database of the missing of which the results provide the name, service, rank, and date of loss. This information can be used to order custom military style dog tags and a portion of the proceeds will go to WWRM. Each order includes two dog tags, two dog tag silencers, and a ball chain necklace and key chain (the 15% discount mentioned above does not apply to these dog tags and they must be ordered separately). The order page for the WWRM dog tags can be accessed at the following link: http://www.logotags.com/mm5/product/WWRM-TAGS.html.
LogoTags is a division of Ball Chain Manufacturing (BCM), the largest manufacturer of ball chain in the world) and the only company that still manufactures ball chain in the United States. BCM was founded in 1938 and is headquartered in Mount Vernon, New York, where it operates its main production facilities, administrative offices, and customer service operations.
In addition to custom dog tags, LogoTags' product line includes promotional items of almost every kind, including custom dog tags, custom challenge coins, bottle openers, metal tags, lapel pins, silicone bracelets, jewelry, charms, key chains, car magnets, t-shirts, custom apparel, and more.