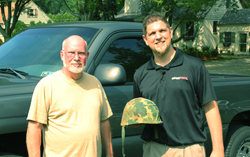 This is our way of honoring and saying thank you to the men and women who have put their lives on the line to defend our country. -- Jim Tornetta, CollisionMax president
Trevose, PA (PRWEB) May 07, 2014
CollisionMax, an auto body and glass repair company with 11 shops in Pennsylvania and New Jersey, will continue its Metal of Honor Project for a second year, the company announced today. Through the program, CollisionMax gives a free auto body repair to a veteran of the United States Armed Forces, one per month for each of its repair centers in the Delaware Valley.
The company selects honorees from nominations submitted by the public at the program's web site, MetalofHonorProject.com. The site is now accepting nominations for all 11 of its shops, and will accept nominations throughout the next 11 months for all shops yet to give an award.
"This is our way of honoring and saying thank you to the men and women who have put their lives on the line to defend our country," said Jim Tornetta, president of CollisionMax. "Every man or woman who served in any branch of the military is eligible. Our only regret is that there are so many more worthy veterans out there than we can reach."
CollisionMax announced the following schedule of deadlines for awards by each of its shops:
Shop Nomination Deadline*
Glassboro, NJ May 30
Oxford Valley, PA June 27
Warminster, PA July 25
Blackwood, NJ August 29
Sicklerville, NJ September 26
Westmont, NJ October 31
NE Philadelphia (Retail) November 28
Pennsauken, NJ December 26
Cinnaminson, NJ January 30
Marlton, NJ February 27
NE Philadelphia (Fleet) March 27

Each date is a Friday; nominations will be accepted until 12:00 midnight.
For more information about the project, including video interviews with previous winners, please visit http://www.MetalofHonorProject.com. For more information about CollisionMax, please visit http://www.collisionmax.com.