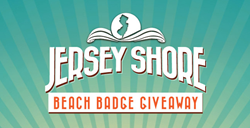 "The shore and all of its residents took a huge hit during Hurricane Sandy and it's awesome that we're in a position to give back to some people who could have been affected by the storm." - Pete Schauer, Digital Marketing Specialist
Belmar, NJ (PRWEB) May 08, 2014
Do you know how much it costs to spend the summer season at your favorite beach?
Thanks to SEMGeeks, you do now.
SEMGeeks, a full service digital marketing and web development agency located in Belmar, NJ, researched the cost of a seasonal beach badge at some of Monmouth and Ocean county's most popular beaches and put it into an infograph. According to SEMGeeks' research, Sea Girt and Spring Lake boast the highest priced badges in Monmouth County while Martell's in Point Pleasant is the most expensive for Ocean County.
The digital agency is also spreading some summer cheer by giving away $1,000 worth of New Jersey beach badges to celebrate the start of summer 2014 and help those still recovering from damages suffered during Hurricane Sandy.
Working with local NJ companies such as Jersey Mike's Subs, Raritan, Seasonal World and Brookdale Community College, SEMGeeks and digital marketing specialist, Pete Schauer, felt it necessary to give something back to Jersey residents.
"The shore and all of its residents took a huge hit during Hurricane Sandy and it's awesome that we're in a position to give back to some people who could have been affected by the storm."
The Jersey Shore Beach Badge Giveaway, which started on April 23, runs until May 21, with two winners being announced every Wednesday. To enter the sweepstakes, all you have to do is "Like" the SEMGeeks Facebook page and then fill out an entry form to be eligible to win a free beach badge.
Winners are announced by email every Wednesday, and all winners will receive their free beach badge two to four weeks after the sweepstakes ends, arriving just in time to enjoy a full summer on the beautiful NJ beaches.