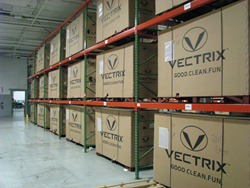 Electric cycle company auction planned for June 18, 2014.
New Bedford, Massachusetts (PRWEB) May 09, 2014
The bankruptcy trustee for electric motorcycle maker Vectrix, LLC announced that the company's assets will be auctioned off on June 18, 2014. Paul E. Saperstein & Co. (http://www.pesco.com) will conduct the auction at the company's former headquarters in New Bedford, Massachusetts.
Introduced in 2006, the Vectrix was the first commercially available high performance electric scooter. Following financial problems, the Gold Peak battery group purchased the company in 2009. Under new control, Vectrix expanded its product lines, launching the VX-2 and the three wheeled VX-3. However, sales failed to generate sufficient revenue and Vectrix LLC stopped operations in January 2014.
On March 31, 2014, Vectrix, LLC filed a chapter 7 bankruptcy petition in the United States Bankruptcy Court for the District of Massachusetts, and Warren E. Agin was appointed as its bankruptcy trustee to liquidate the company's assets. On April 25, 2014, Mr. Agin announced in court pleadings that he is hiring Paul E. Saperstein & Co. to auction the company assets on June 18, 2014, at Vectrix's former headquarters at 55 Samuel Barnet Blvd, New Bedford, Massachusetts.
According to the auctioneer, the assets being sold will include 75 complete Vectrix all electric VX1, VX2 & VX3 Motorcycles & Scooters, about 100 new Lithium Ion batteries suitable for use in Vectrix cycles, and more than 1.6 million dollars' worth of replacement parts. In addition, the auction will include electronics, office equipment, assembly plant machinery and an extensive selection of machine shop and manufacturing equipment. Online bidding will be provided through BidSpotter. Paul A. Saperstein & Co.'s complete auction guide is available online at http://bit.ly/vectrix. According to Mr. Agin, available intellectual property and other intangible assets might be added to the auction, but no decision has been made yet.