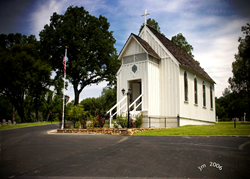 (PRWEB) May 13, 2014
In the early 1890's a simple little church was built in Fresno Flats, California with volunteer labor and sugar pine lumber from the local mills. The mission for the church was authorized by the Episcopal Church Diocese of California and granted to Fr D.O. Kelley of Fresno California. Fr. Kelley established 10 other churches and missions in the San Joaquin Valley including Bakersfield, Lodi, Madera, Merced, Modesto, Reedley and Tulare.
Fr. James McGowan moved his family from Salinas to Fresno Flats in 1892 to supervise the building of Christ Church. There are no records of the time it took to build the church but building traditions of the era were said to be quite efficient and everyone turned out to lend a hand. Barns, houses and churches were likely built in just a few days. The church was consecrated on June 20, 1894. In 1938 an historic, formal agreement was made between the Episcopal Diocese and the Presbyterian Church to jointly oversee and maintain the building. At that time the church name became Christ United Church.
Christ United Church became landlocked where it stood on top of the hill. It was the first house of worship and met the needs of all denominations for 61 years. New churches were being built in Oakhurst and the simple little church on Road 425B held its last worship service in 1953.
In 1957 the church was moved from Chapel Hill to Oakhill Cemetery to protect it from vandalism. March 19, 1994 - California State Historical Resources Commission designated the church and cemetery as a Point of Historical Interest (MAD 007). In the years 2005-2007, visitors from 23 foreign countries, 93 California cities and from 24 other U.S. states signed the guest book. In one 10 month period, there were more than 600 visitors to the Little Church on the Hill.
One wall is finished and there are three more to go. The Little Church Foundation is a group of volunteers dedicated to the restoration and preservation of the Little Church on the Hill at Oakhill Cemetery in Oakhurst, California. Their present goal is to complete the siding upgrades on 3 of the 4 outside walls, with one of the outside walls being completed in 2011. The sugar pine exterior siding of 1995 is not holding up to our mountain weather or the Redheaded (Acorn) Woodpecker. The outside has been repaired and repainted but is very costly to maintain. Wood-rot of the sugar pine siding is more evident every year. This and many more updates are needed to keep the Little Church functional and beautiful for the next 100 years.
This soon-to-be 120-year-old Pioneer church at Oakhurst cemetery still hosts funerals, Veteran's events, all-denomination church services and recently was in a movie. On June 20th, there will be an Ice Cream Social and Re-dedication Ceremony to honor the 120th Anniversary.
Proposed Preservation Work

New "woodpecker-proof" siding, window frames and sills
Strengthen bell tower
Remodel front and back stairs for safety.
Remove and re-pour cement and improve the approach from the blacktop to the stairs for safety.
Add gutters to the roof
For more information on how you can help save the Little Church: http://savethelittlechurch.org/index.html or call Madera Cemetery Office: 559.674.8826
###