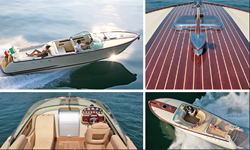 High Performance Luxury Motorboats built in Northern Italy beside the Lake of Como. Artisan built to the highest quality standards. Imported exclusively by Comitti North America for American and Canadian clients. Sold and serviced by YachtBrasil USA.
(PRWEB) May 09, 2014
World-renowned for their sleek lines and vintage sensibilities, Comitti Yachts combines the strength & performance of modern fabrication with the elegance and style of yesteryear.
YachtBrasil USA has sold, serviced and represented the finest in nautical luxury worldwide for more than three generations, and that tradition of excellence is exemplified in Miami Beach, most recently with the addition of Italy's Comitti Yachts.
From their beginning, Comitti Yachts have explored experimental designs in pursuit of the Italian passion for speed. Original racing designs evolved into their signature elegance through the years, delivering the thrill of speed with a unique Italian flair.
An example of this high performance elegance is the design of the hull running surface: with the creation of a new Comitti "V" shape, Comitti yachts have better rough water handling while providing an ideal wake for water skiing. Comitti's signature down angle lift strakes on the running surface increase speed, improve handling and provide a dry ride.
Currently building a range of models from 22-35' (6.5 to 10.5 M) in length with gasoline or diesel engines from Mercruiser and Volvo, Comitti puts quality before quantity to build their exclusive, artisan-crafted speedboats. Comitti uses state of the art composite and wood boatbuilding methods to produce a strong, lightweight, stunningly beautiful vessel that will last a lifetime with minimal annual maintenance.
Whether cruising on the Riviera or Biscayne Bay, Comitti Yacht's Venezia Elegance 34 is the gentleman's choice. With its sleek lines and forward swept concept, the Elegance line show their heritage in Italy's famous wooden boatbuilding tradition.
For the sportsman, the Venezia Sport 28, is a beautiful yacht that brings Comitti's signature elegance to a midsized runabout yacht.
South Florida is perfect for these sleek, retro designs, made for short journeys up the intercoastal or across Biscayne Bay, Comitti appeals to the sense of retro elegance so sought after by today's boomers, hipsters and wealthy sportsmen.
Available at YachtBrasil USA's Miami Beach facilities, Comitti Yachts bring Italian style, elegance and performance to South Florida. In support of their proud partnership with Comitti Yachts, YachtBrasil has selected Miami hottest new advertising and marketing agency, Glo Creative to launch a multi-media marketing campaign.
About Comitti S.p.A.
Comitti S.p.A., was founded in 1956 by Mario Comitti, in Northern Italy beside Lake Como, with the vision to create high performance luxury motorboats. Almost 60 years of Artisan crafted boats, built to the highest quality standards.
About YachtBrasil USA
YachtBrasil USA's logistical, maintenance and luxury expertise makes selecting your next yacht not only a pleasant, exciting experience, but also a discovery into the more elite style of yachting. Comitti Yachts bring classic Italian runabout design and performance to Miami Beach. To learn more about Comitti Yachts, or to arrange a test drive for your next elite yacht, please contact YachtBrasil USA's main office at Miami Beach Marina 305-722-7200.