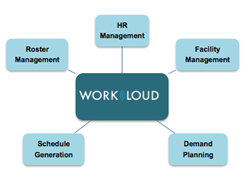 Isn't it time to hold your workforce deployment to the same exacting standards you set for the rest of your supply chain?
Madison, WI (PRWEB) May 07, 2014
Imagine that you're teaching a robot to tie a shoe. How should your instructions start? If you ask five people to describe the shoe tying process, you'll get five different answers. One breaks the process down into detailed steps. Another says, "I don't know, really – I just do it." Despite the fact that each person is tying the same knot, each one describes the process in a different way. If automating something as simple as tying a shoe proves so difficult, how can you ever hope to automate your organization's complex workforce scheduling?
ScheduleSoft's Workloud automates extremely complex workforce schedules every shift of every day. This success comes from actually honoring each customer's complexity, not diluting or oversimplifying each customer's process. In other words, you shouldn't have to replace all of your shoes because it's easier for a robot to apply Velcro straps.
The first step to automating a workforce schedule is to fully understand the current manual process. It's very important to hear many different descriptions of how schedules are made. Remember, each scheduler thinks of this task in a different way. You can't hope to get the full picture if you're only talking to one or two people. It's also critical to understand what governs each specific scheduling decision. If employees are members of a union, what collective bargaining agreements apply to schedules? Does the company have its own set of rules that apply as well? Does any of the facility's physical attributes, such as building locations, shift times, or machinery dictate how and when certain employees are scheduled? Is employee job competition handled by seniority? Is seniority measured in different ways under different circumstances? Should employees rotate through specific jobs to avoid injury? Also, how are qualifications used to ensure that workers receive safe assignments? The deeper you explore each scheduling process, the more complex it seems to become.
Although receiving input from many different individuals is necessary, it also poses one of the biggest challenges to defining how an organization schedules its workforce. People often interpret rules in much the same way that they interpret a process. Consider a rule that contains the word "should". Some would interpret the rule as a recommendation that can be ignored under special conditions. Others will interpret the rule as absolute, never to be broken. What's worse, you may learn that there is an inconsistent awareness of the complete set of rules. Two departments scheduling under a different, incomplete selection of the rules will yield very different schedule results. Nonetheless, both departments stand firmly behind their practices. The key to managing these kinds of obstacles is to anticipate them well in advance. You need to establish an individual or group within the organization that has the final word on conflicting accounts and interpretations of the scheduling process.
The next challenge is putting all of these process elements together into a scheduling workflow that can be applied to each employee. Based on the rules, where should I first attempt to schedule Employee A? If there is competition for this job, how should it be resolved? If Employee A cannot get his/her first job choice, where do I attempt to schedule him/her next? What happens if Employee A still doesn't have a job after I've exhausted all the available options? Each step represents a unique scheduling decision that needs to be made under the given circumstances. Properly mapping and applying thes workflow steps ensures that each employee is assigned according to the published rules and the production needs of the organization.
An accurate scheduling workflow provides the foundation for translating current rules and processes into an automated scheduling algorithm. What's more, codifying these steps into specialized scheduling software means that your workforce deployment becomes accurate, repeatable, flexible, auditable, and efficient. Last second changes to production needs? No problem. Equipment goes down? No problem. Have to quickly leverage the use of new part-time labor? No problem. You always have the right person on the right job at the right time.
Isn't it time to hold your workforce deployment to the same exacting standards you set for the rest of your supply chain?