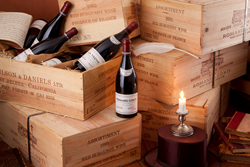 "What we experienced exceeded expectation, and international bidding was a big part of that, up almost 30% compared to the norm. Yet what collectors ultimately acted on was that any wine from these two great collections could be bought with confidence."
New York, NY (PRWEB) May 08, 2014
Two of the world's top Burgundy collections were offered in NYC on Saturday May 3rd with serious bidding and buying from all over the globe.With over 100% sold and close to $3 million achieved, Acker Merrall once again delivered the results and wines consignors and buyers alike expect, showing why it remains the #1 wine auction firm worldwide and the destination when the world's top collections are ready to sell.
Burgundy from these two outstanding collections was the dominant theme during the auction as that beautiful region tallied 24 of the day's Top 25 Lots. And since Burgundy was the focus, DRC was unsurprisingly the most sought after estate. All ten of the Top 10 lots were DRC, and every one of those ten lots was either a DRC OWC Assortment or OWCs of Romanee-Conti itself. The #1 lot was a twelve bottle OWC of the 1999 DRC Assortment which sold for $37,050. It wasn't until #19 of the Top 25 Lots that another famous region in France could be found, and appropriately enough this was an OWC of the great 2005 Petrus.
"I have known these two collectors for well over 10 years, and so do many of America's finest collectors.Given the provenance and incredible names from Burgundy, I was confident this was going to be an exciting sale. Bordeaux, Champagne, Rhone and Italy also added nicely to the mix - yes, there was more than Burgundy alone in this auction, as the ten new world records set by Champagne proved," said Acker Merrall & Condit's CEO, John Kapon. "What we experienced exceeded expectation, and international bidding was a big part of that, up almost 30% compared to the norm. Yes, Burgundy was the headline act, the main reason why buyers sought these two collections initially. Yet what collectors ultimately acted on was that any wine, any lot from these two great collections, could be bought with complete confidence. That is a story and theme we experience repeatedly – great, diverse collections are highly sought after, always. Collectors know that Acker Merrall brings the best of the best worldwide to the market, the world's greatest selection on a monthly basis, from all the top regions and estates. See you in less than three weeks accordingly."
World records continued to fall. The auction established 85 new world records with Burgundy leading the way with 68. Dujac, Roumier, Ponsot, Rousseau, Jadot and Coche-Dury were responsible for over half of those. Just as importantly, results over the high estimate results reflected a diverse, healthy market with collectors also exceeding estimates to own key lots from Fourrier, Drouhin, Leroy, Carillon, Rayas, Beaucastel, Bollinger, Giacosa, Giacomo Conterno, Ornellaia and Biondi-Santi amongst others.
May 3rd Highlights (per unit price)
size year wine Lot per unit price
0.75 2000 Coche-Dury Corton Charlemagne 15 $2,470.00
1.5L 1997 Giacomo Conterno Barolo Monfortino Riserva 85 $1,976.00
0.75 2001 Rousseau Chambertin Clos de Beze 116 $1,235.00
1.5L 2009 Dujac Clos de la Roche 177 $3,396.25
0.75 1995 Georges Roumier Bonnes Mares 190 $1,543.75
0.75 1995 d`Auvenay (Leroy) Mazis Chambertin 132 $1,132.08
0.75 1999 Dujac Bonnes Mares 163 $926.25
0.75 1996 Mugnier Musigny 225 $1,976.00
0.75 2001 DRC Romanee St Vivant 251 $1,440.83
0.75 1995 Domaine Meo Camuzet Richebourg 266 $988.00
0.75 1999 Ponsot Clos de la Roche 271 $452.83
0.75 1996 Bollinger Vintage Champagne, Vieilles Vignes, Francaises 281 $1,646.67
1.5L 1986 Krug Clos du Mesnil 307 $2,470.00
0.75 2004 Leroy Corton Charlemagne 465 $1,070.33
0.75 1995 Chateau Rayas 478 $926.25
This spectacular sale was just the beginning for Acker this month. On May 21st at the Bowery Hotel in NYC, it will be Acker's first raucous, make that evening, NY auction of 2014.Soon thereafter, May 30-31 will be Acker Asia's last Hong Kong auction before Fall. For information about both auctions please visit http://www.ackerwines.com.