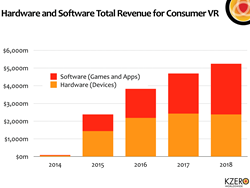 2015 will be the year that both hardware and software revenues from consumer virtual reality start to grow significantly.
(PRWEB) May 08, 2014
Consumer Virtual Reality market worth $5.2bn by 2018.
That's one of the headline findings from the latest KZero market sizing report on the Consumer Virtual Reality market. As part of this report – Consumer Virtual Reality, State of the Market, both hardware and software forecasted sales from 2014 to 2018 have been assessed.
The primary audience for consumer VR is segmented into three main groups (Hardcore gamers/Innovators), Light Gamers/Early Adopters and the Kids,Tween and Teen (KT&T) segment.
On an overall basis, it is estimated that 2014 unit sales will reach 200k (all from the Hardcore Gamer / Innovator segment), as the market begins to emerge.From here, 2015 sales are forecasted at 5.7m units rising to 23.8m in 2018. Total cumulative units sold from 2014 to 2018 equals 56.8m devices. This is broken out as 10.9m units from Hardcore Gamers, 18.1m from Light Gamers and 27.7m from the KT&T segment.
Applying a starting selling price point of $300 in 2014, falling circa $50 per year through to 2018 ( a continuing fall in the retail price is factored in as more companies enter the market and drive competition). 2014 hardware revenue is calculated at $60m in total. As unit sales increase, total hardware revenues grow to $1.4bn in 2015 (from 5.7m purchased devices), through to $2.1bn 2016, and $2.4bn in 2017.
Full year 2018 hardware revenue from devices sales is estimated at $2.3bn, creating total cumulative hardware revenues (2014 – 2018) of $8.4bn. This is broken out as $1.6bn units from Hardcore Gamers, $2.5bn from Light Gamers and $4.2bn from the KT&T segment.
Moving onto the games and apps….
Of course, once you've got a consumer virtual reality device you need games, apps and other software to 'do stuff'. therefore the software side of the market has also been assessed. To calculate software revenues an active user forecast (on the basis that a single device will have more than one user) has been applied to a forecasted ARPPU data in order to determine revenues.
2014 software revenue are forecasted at $30m in 2014, from 600k active users. This increases to $947m in 2015 from 15.7m active users.
Total 2018 annual software revenue is forecasted at $2.8bn from 47.6m active users. Cumulative software revenue from 2014 to 2018 is estimated at $7.7bn.This is broken out as $1.4bn software revenue from Hardcore Gamers, $2.4bn from Light Gamers and $3.8bn from the KT&T segment.