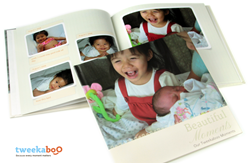 Tweekaboo is your child's life story in an app.
Cork, Ireland (PRWEB) May 13, 2014
Tweekaboo, the life journal and private photo sharing app for families, has launched a book printing service that makes it easy to print a Pregnancy Journal or Baby Book using your smartphone.
The private photo sharing app makes it easy for parents to capture moments on the go, share them privately with family and print hardcover photobooks. With recent research citing that up to 81% of moms now own smartphones with 89% stating that their smartphone is always with them, Tweekaboo is targeting moms and moms-to-be who are looking for a convenient way to document the everyday moments of their children's lives. Journaling can start as early as that positive pregnancy test and continue right through every moment, milestones and life-stage that follows.
"Tweekaboo is your child's life story in an app," said Founder Eugene Murphy. "Because it's a mobile first service, Tweekaboo is always with you which makes it simple to record and share moments as they happen. We are excited to be able to launch the printed Tweekabook so that our users can now preserve their mobile memories in keepsake books," Murphy continued. By automatically aggregating the everyday moments you share with family, Tweekaboo's goal is to leverage private sharing to reinvent the traditional pregnancy diary and baby journal.
The browser based, cross platform book editor works on mobile and web. Once you have uploaded or shared enough moments to fill a book, Tweekaboo automatically organizes your timeline into a printable baby book in seconds. Editing features allow you to alter captions and rotate, remove or enlarge photos. Individual comments from grandparents or family members can also be shown or hidden at the tap of a finger. Book start dates can be altered allowing you to print successive chapters of your child's life story.
The hardcover Tweekabook is 8.5"x8.5" in size and comes with a matt finish on the cover and high gloss 200 g/m2 internal pages. Books can be ordered online or through the Tweekaboo App and are now being shipped worldwide.
==ENDS==
Sign up for free
or
Download the free Tweekaboo app now.
About Tweekaboo
Tweekaboo is a mobile life journal and private sharing app for parents. Founder and dad of 4, Eugene Murphy, quickly realized his children were growing up too fast and wanted an easy way to document the everyday moments that he shared with his wife Caroline.
Eugene realized that the emotional texts, photos, and videos that captured the real story of his children's lives were fragmented across messaging apps, Facebook and email. All of these shared moments captured bits of his children's lives - they just were not being organized into a chronological story. This solve this problem he built a convenient and private space to turn these shared moments into his children's life story - and that place is Tweekaboo.
Tweekaboo's mission is to make it easy to record and privately share your real-life family moments. Tweekaboo was started in Ireland in 2012 and has users in over 120 countries.