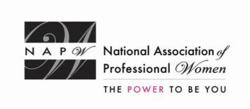 We had a Registered Nurse, a Holistic Nurse and Healing Touch Practitioner Apprentice who educated members and guests on ways to relieve stress through different holistic techniques.
Garden City, NY (PRWEB) May 08, 2014
Keep calm and carry on! That was the mantra of thousands of members and guests from NAPW Local Chapters as they discovered new ways to de-stress at home and in the workplace during professional networking meetings around the country. In recognition of Stress Awareness Month this April, Local Chapters in five regions across the US, welcomed guest speakers and hosted workshops focusing on ways to de-stress and stay healthy.
Whether listening to tips from experts about de-cluttering their homes, enjoying an evening of pampering or learning about holistic approaches to stress relief, professional women came together to network, celebrate life and empower themselves by taking charge of their professional and personal lives!
In NAPW's Eastern Region, members and guests at Local Chapter events in Alexandria and Newport News, VA; Morris County, NJ and Washington, DC heeded the advice of organizational experts to "de-clutter to de-stress." In keeping with the NAPW Foundation message to never stop making a difference, many cleaned out their closets and generously donated items to their local Dress For Success organizations.
"Everyone was more than happy to donate to Dress For Success. But we had no idea how much these women gave until we began to unwrap the donations," said Marlo (Thomas) Calloway, Newport News Local Chapter President. "There were over 200 items of clothing, shoes and accessories!"
Also in the Region, guest speakers helped members and guests de-stress in Boston, MA; Forest Hills and New York City, NY; Howard County, MD; Litchfield, CT; Stafford and Manassas, VA; Waldorf, MD; Warwick, RI and Greensboro, NC, while professional women in Binghamton, NY and Manchester, NH enjoyed an evening of wine tastings. Other Chapters in NAPW's Eastern Region that held networking events included Chesapeake, Lynchburg and Loudoun County, VA; Ithaca, NY and Scranton, PA.
Waukesha, WI, a newly launched Local Chapter in NAPW's Northern Region, made exciting plans for the future at its monthly networking meeting. From wine tastings to holistic techniques, other Chapters in NAPW's Northern Region, including Ann Arbor, MI; Chicago and Orland Park, IL; Indianapolis, IN and Lexington, KY, hosted guest speakers, offering members and guests plenty of ways to de-stress.
"We had a Registered Nurse, a Holistic Nurse and Healing Touch Practitioner Apprentice who educated members and guests on ways to relieve stress through different holistic techniques," said Megan Wessels, Chicago, IL Chapter President.
The Augusta, GA Local Chapter heard from Liz O'Donnel, Author of Mom, Mogul and Maid: The Balancing Act of Modern Woman and Founder of Hello Ladies. Guest speakers, including experts in finance, an image consultant and a martial arts instructor visited other Chapters in NAPW's Southern Region in Jacksonville, Ocala, Palm Beach and St. Petersburg, FL and New Orleans, LA, sharing their stress-relieving tips with members and guests.
In NAPW's Central Region, Local Chapters in Cedar Rapids, IA and Norman, OK focused on pampering as a way to relieve stress, with members enjoying facials and makeup how-to's. At its launch meeting, Central Houston, TX members learned more about NAPW and fundraising activities and Kansas City Metro, KS attendees also discussed ways they could further support Dress For Success.
Members and guests attended stress awareness workshops and heard from expert speakers at networking meetings at Local Chapters in NAPW's Western Region in cities such as Pasadena and San Mateo, CA; Las Vegas, NV; Mesa, AZ and Southern Oregon, OR.
At Local Chapter meetings across the country, groups of professional women networked, supported one another's personal and professional accomplishments and continued empowering themselves by building lasting relationships.
"The more you participate, the more you get out of the experience! We are the ones creating the experience, strength and depth of this Chapter," St. Petersburg, FL Chapter President Maurie Lung told members. "I also invite you to suspend your certainty. By opening ourselves to a variety of experiences, we create relationships and connections and learning that we could never have anticipated."
Also on the minds of many NAPW members was the 2014 NAPW National Networking Conference in New York City's Time Square on April 25th. More than 1200 members attended this year's event that was, in the words of Star Jones, NAPW Spokesperson and Chief Development Officer, "bigger and better than ever… we blew the roof off!"
"Even the manager of the Marriott Marquis said he's never seen a conference this great in all the years he's worked there. And, he's still trying to get that roof back on!" said Ms. Jones.
Following the day-long Conference was NAPW's first Presidents Leadership Day, presided over by Ms. Jones and Louise Newsome, NAPW National Director of Chapters. It was a day of recognizing the important work of each and every Local Chapter President.
"We created Presidents Leadership Day as a way of saying thank you for the outstanding commitment and dedication these women show as Chapter leaders," said Ms. Newsome. "We had a spectacular agenda planned for them designed to make them even better leaders, thereby enhancing their roles as Chapter Presidents. It was a great day!"
The National Association of Professional Women (NAPW) is the largest and most recognized network of professional women in the country. Our Mission is to provide an exclusive, highly advanced networking forum to successful women executives, professionals and entrepreneurs where they can aspire, connect and achieve. Through innovative resources, unique tools and progressive benefits, professional women interact, exchange ideas, advance their knowledge and empower each other.
For additional information regarding NAPW Local Chapters and/or NAPW, please visit http://www.napw.com.