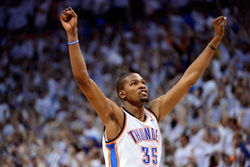 Denver, Colorado (PRWEB) May 08, 2014
As the late great Yogi Berra loved to say, it feels like deja vu all over again. Just as the NHL's rabid fans recently witnessed three Game 7's in round one of the playoffs played on the same day for the first time since 2003 and just the fifth time ever – NBA basketball fans are now getting a taste of the same seat-filling tonic.
In fact, according to NBA stats, no postseason on record has ever featured more than five Game 7's. That is likely to change as it just took seven games to conclude five of the eight first round series this year.
With NBA second round action now running the court, things are not expected to cool down any time soon. The Wizards and Pacers and the Clippers and Thunder tipped off two highly anticipated round two playoff match-ups on Monday night. Washington was well rested after quickly taking care of the Chicago Bulls 4 games to 1 in the first round and ready for the top-seeded Indiana Pacers.
The Wizards jumped out to an early double-digit lead and held on for a 102-96 victory. Bradley Beal scored a game-high 25 points as the Wizards won their fourth straight road game in the playoffs, taking a one-game lead in the best of seven series, as of Tuesday.
"After a heart pounding first round of playoff action, NBA tickets are trending very high in current sports ticket queues across the country. We're seeing a dramatic increase in sales for top NBA teams including the Brooklyn Nets, Miami Heat, Indiana Pacers, San Antonio Spurs and other playoff contenders," said Marta Ault at online ticket marketplace BuyAnySeat.com.
"That's why we're proud to offer fans the most complete and continuously refreshed selection of sports tickets online, with a worry-free guarantee to protect their purchase," added Ault.
"To access the complete listing of NBA Playoff tickets we currently have available, fans can go to BuyAnySeat.com and click on the NBA header – then select their team and tickets."
The second seeded Oklahoma City Thunder gave up home-court advantage in a 122-105 Game 1 loss to the Clippers on Monday night as Chris Paul powered LA with 32 points on 10-of-14 shooting. The Thunder will look to turn the series around after star Kevin Durant earned the 2013-14 Kia NBA Basketball Most Valuable Player Award in Oklahoma City last Tuesday.
Meanwhile, the other Western Conference Semifinal got off the line Tuesday as Tony Parker scored 33 points to lead the San Antonio Spurs to a 116-92 victory over the Portland Trailblazers. Parker, who had 32 points in Round One's Game 7 against Dallas, scored 13 points in the first quarter alone as San Antonio built a 10-point lead just eight minutes into the game.
On Tuesday night, LeBron James scored 22 points and joined Michael Jordan and Kobe Bryant as the only players in NBA postseason history with at least 4,000 points, 900 rebounds and 900 assists. James is the youngest of the three players to achieve that milestone, doing it in just nine postseason appearances. Ray Allen added 19 and the Heat stayed perfect in this year's playoffs after defeating the Nets 107-86 in Game 1 of their Eastern Conference semifinal series.
The 2014 NBA playoffs tipped off on April 19, and will run until mid-to-late June with the conclusion of the 2014 NBA Finals. The Finals are currently set to begin on Thursday, June 5, 2014.
The Eastern Conference/Division leads the Western Conference/Division in series won (37–29). The defunct Central Division won one championship. The Boston Celtics and the Minneapolis / Los Angeles Lakers own almost half of the titles, having won a combined 33 of 67 titles. The two-time defending champion Miami Heat lost in the Finals to the Dallas Mavericks in 2011 and defeated the Oklahoma City Thunder in 2012 and San Antonio Spurs in 2013.
To shop for NBA Playoff tickets, visit BuyAnySeat.com.
About BuyAnySeat.com: An online ticket marketplace, BuyAnySeat.com connects sports, theater and other live entertainment fans to an extensive network of ticket sellers worldwide. The site's simplified listings and navigational tools enable shoppers to easily locate, compare and purchase inexpensive, discounted or lower-priced tickets to virtually all advertised sports and entertainment events around the globe.
The ticket marketplace, which is PCI-compliant and Norton Secured, also provides customers with a complete Worry-Free Guarantee on all ticket purchases. Based in Denver, Colorado, BuyAnySeat.com is a subsidiary of Denver Media Holdings. For more information, please visit http://buyanyseat.com.