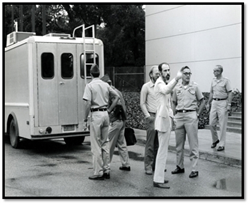 'Little did Bob Kahn and I know In the early 1970s, that the Internet would explode by a factor of a million after its ignition on January 1, 1983.' -Vint Cerf
Palo Alto, CA (PRWEB) May 08, 2014
On May 10th, 2014, Internet pioneers will gather for a picnic at Mitchell Park in Palo Alto, to celebrate the 40th anniversary of the conception of the Transmission Control Protocol/Internet Protocol (TCP/IP). A plaque commemorating the place where Vint Cerf and Bob Kahn developed the TCP specification at the (now) Crowne Plaza Cabana in Palo Alto, will be hung in the hotel lobby after talks at the park. To celebrate this seminal contribution that now touches over 3 billion people worldwide, the Mayor of Palo Alto will be joined by Vint Cerf of Google, Yogen Dalal of the Mayfield Fund, Judy Estrin of JLabs, Charles Goldfarb, Godfather of Markup Languages, Dan Lynch, founder of Interop, John Shoch of Alloy Ventures, Marc Weber, Internet Historian at the Computer History Museum and Sean Askay of Google Earth.
May 10th will also be the public launching of the Website http://www.tcpip40.com/, a platform to collect the stories of how the Internet came to be, and what it means to people of many different backgrounds. The aim is to complement the work of the biographer of the Internet, Andreu Vea, WiWiW.org to have the seminal events of the conception and creation of the Internet, the collective work of 100's maybe 1000's of people, to be described in their own words.
The May 10th event is organized by volunteers who wish to bring together the pioneers who have accomplished so much and changed the world we live in. It provides a special opportunity for everyone to gather and hear their stories, and understand the original hopes and dreams for the Internet. The event is a multi-generational picnic, open to everyone. To get preferred picnic spaces or order a picnic lunch, people can register at http://www.tcpip40.com.
Those unable to be there can join the event virtually at http://www.TCPIP40.COM and use the hashtag #tcpip40 to follow and contribute over Twitter or Google +, or visit the Facebook page at http://www.facebook.com/tcpip40.
Yámana Science and Technology (http://www.yamanascience.org), a 501(c)3 focused on the future of science, and Argus Insights, Inc. (http://www.argusinsights.com) are very pleased to be participating in this historic gathering. Yámana is partnering with Vint Cerf and Mei Lin Fung in hosting this event to promote collaboration between the science and technology communities.