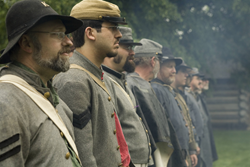 Dearborn, Mich. (PRWEB) May 08, 2014
This Memorial Day Weekend watch history come to life as Greenfield Village is transformed into 1860s America during Civil War Remembrance May 24-26 with special hours until 9 p.m. on Saturday, May 24. From bustling Union, Confederate and civilian encampments to live military tactical demonstrations, participate in one of the most comprehensive Civil War events in the nation. The Civil War Remembrance event is endorsed by the Michigan Historical Commission's Civil War Sesquicentennial Committee.
This year marks the sesquicentennial of the final full year of the war and the beginning of the end of the Confederacy. To mark those events, The Henry Ford has partnered with the National Park Service and will be taking part in Reverberations, an innovative program connecting three national parks in Virginia and eight communities around the country to illustrate the devastating impact of the Civil War on communities across the country. A special ceremony will take place on Saturday, May 24 at 8:45 p.m. on the Village Green. John Hennessy, Chief Historian, and Elizabeth Parnicza, historian, at Fredericksburg and Spotsylvania National Military Park will provide presentations and programming through-out the weekend.
Inside the Village Pavilion, guests will see significant artifacts from the Civil War, research their ancestors who might have participated, and see clothing worn during that time. During the weekend, guests can also stop by a re-created Abraham Lincoln's campaign headquarters at the Tintype Studio, enlist in the Army at the Phoenix Post Office or watch a fashion show of period dress on the Town Hall Stage. On Monday, The Henry Ford will host the Memorial Day Commemoration ceremony on the Village Green starting at 12 p.m. and will participate in a National Moment of Silence at 3 p.m. signaled by the Armington & Sims shop whistle.
New this year, Tim Eriksen and The Trio de Pumpkintown will perform live on the Town Hall Stage Saturday at 7 p.m., Sunday at 2 p.m. and Monday at 1 p.m. Eriksen is acclaimed for transforming American tradition with his startling interpretations of old ballads, love songs, shape-note gospel and dance tunes from New England and Southern Appalachia. He combines hair-raising vocals with inventive accompaniment on banjo, fiddle, guitar and banjo sexto-a twelve string Mexican acoustic bass-creating a distinctive hardcore Americana sound.
Admission to Civil War Remembrance is free with membership or $24 for adults, $22 for seniors 62 and up and $17.50 for youth 5-12. Children four and under are free. For more information, call (313) 982-6001 or visit http://www.thehenryford.org/events/civilWarRemembrance.aspx.
About The Henry Ford
The Henry Ford in Dearborn, Michigan is an internationally-recognized cultural destination that brings the past forward by immersing visitors in the stories of ingenuity, resourcefulness and innovation that helped shape America. A national historic landmark with an unparalleled collection of artifacts from 300 years of American history, The Henry Ford is a force for sparking curiosity and inspiring tomorrow's innovators. More than 1.6 million visitors annually experience its five attractions: Henry Ford Museum, Greenfield Village, The Ford Rouge Factory Tour, The Benson Ford Research Center and The Henry Ford IMAX Theatre. A continually expanding array of content available online provides anytime, anywhere access. The Henry Ford is also home to Henry Ford Academy, a public charter high school which educates 485 students a year on the institution's campus. For more information, please visit our website thehenryford.org.