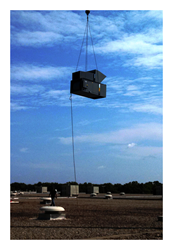 "This project was an opportunity for Energy Source to exercise several core competencies, including lighting design, HVAC efficiency, networked controls and of course, securing the utility rebates." -Ron Sliney, Energy Source
Providence, Rhode Island (PRWEB) May 08, 2014
CBRE the Global, full-service real estate services company recently tapped Energy Source of Providence, Rhode Island to perform a comprehensive Energy Conservation Initiative at the Amtrol Corporation Distribution Center and offices in Warwick, Rhode Island, which the publically-traded company manages.
The work performed by Energy Source will save over $50,000 per year in energy expenditures while the project 's cost was largely offset by Utility Incentives secured by Energy Source on the client's behalf.
The project was undertaken following a comprehensive energy audit, conducted by Energy Source, which revealed significant savings opportunities in both the facility's HVAC and lighting systems.
Ron Sliney, Vice President and Co-Owner of Energy Source, the Providence based energy conservation firm, oversaw the project and commented on the comprehensive nature of the initiative.
"This project was an opportunity for Energy Source to exercise several core competencies, including lighting design, HVAC efficiency, networked controls and of course, securing the utility rebates that made financing the project feasible and attractive to the customer." Sliney said.
Energy Source is able to secure financial incentives from Utilities under several programs designed to encourage energy conservation. The firm leveraged its status as a NationalGrid Project Expeditor to acquire the maximum available incentives prior to beginning the initiative with CBRE.
The scope of work included the replacement an older Roof Top Unit that served as part of the ventilation system for the main Amtrol offices. The new unit has a 10-ton capacity and includes Demand Control Ventilation Technology that makes the new system much more efficient than the replaced unit.
Additionally, Energy Source identified 2 failed gas heating units which their mechanical team replaced with new direct fired heating technology that operates at 92% efficiency. These two HVAC change-outs comprise 10% of the overall savings generated by this initiative.
On the lighting side, Energy Source captured even greater savings for AMTROL by replacing the antiquated lighting fixtures and lamps in the distribution center with the latest high power LED Lighting, complemented by state-of-the-art sensors and controls.
Energy Source's Sliney described the CBRE project as a classic "win-win" for all of the stakeholders.
"We pride ourselves on making energy conservation easy for our clients. We were able to utilize our team's expertise to identify every possible savings opportunity, propose the best solution and obtain the rebates and incentives to make the financing attractive. Our goal is always to provide the best and fastest ROI for all involved. We are very pleased to have accomplished that for CBRE and Amtrol with this partnership," Sliney said.
ABOUT CBRE
CBRE is the world's premier, full-service real estate services company. Operating globally, the firm holds a leadership position in virtually all of the world's key business centers.
Whether it's a local, regional, national or global assignment, CBRE applies insight, experience, intelligence and resources to help clients make informed business decisions.
We empower our people, and our clients, with the information they need to anticipate market opportunities, seize competitive advantages and execute the best possible real estate strategies.
ABOUT ENERGY SOURCE
Energy Source is a turnkey implementer of comprehensive energy savings projects within the Commercial, Industrial, Hospitality, Retail, Education and Municipal sectors. We have been in the industry for over 20 years, and understand the nuances of delivering savings to our customers. Energy Source works closely with our clients to identify energy conservation opportunities from "broad stroke" identification through actual implementation of projects. Our services also include obtaining all applicable incentives for our clients, this helps to reduce simple paybacks and maximize Return On Investments (ROI's).
ABOUT AMTROL
AMTROL was founded in 1946 on the premise that innovation, quality and service will be rewarded with customer loyalty and support. In 1954, we revolutionized the hydronic industry when we introduced EXTROL, the world's first pre-pressurized diaphragm expansion tank. This was followed in 1963 with the invention of the first pre-pressurized well tank and in 1967 with the invention of the refrigerant gas cylinder. AMTROL went on to invent the indirect fired water heater in 1980 and the thermal expansion tank in 1991. More recently, the company introduced the first composite metal LP gas tank in 2005 and has since sold over 1 million of these tanks around the world. Throughout our history, AMTROL has been the world leader in the design and operation of the vital mechanical systems that are used to control hydronic heating and to store potable water.
Today, that same spirit of innovation is part of every water heater, pressure booster, well tank and chemical container we manufacture. Over the years, we've continuously raised our stringent quality standards to even higher levels, to keep pace with the industry's rapid technological advancements, and to help us achieve ISO 9001:2008 certification.
AMTROL products include water system solutions for storage, treatment, heating, expansion and flow control, along with a host of related HVAC products serving the residential, commercial, and industrial markets. Our subsidiaries include AMTROL Alfa, in Portugal, specializing in heating and refrigerant gas cylinders. AMTROL employs 1700 people worldwide.
Our corporate headquarters are in West Warwick, Rhode Island; our products are manufactured in Rhode Island, Maryland and Kentucky and internationally in Portugal. To meet the international demand for our products, we operate a sales office in Canada as well as sales offices in Latin America and Europe.