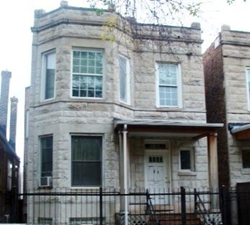 Chicago, IL (PRWEB) May 08, 2014
American Homeowner Preservation ("AHP") recently extinguished over $200,000 in negative equity for a Chicago homeowner who had fallen behind on his mortgage after being hospitalized. AHP is able to make these extraordinary payment modifications by using real estate crowdfunding to purchase pools of distressed mortgages from banks and lenders at significant discounts. AHP's mission is to keep homeowners in their homes and to restore blighted communities by reoccupying vacant properties.
When Eric purchased a two flat building on the West Side of Chicago, his goal was to rent out one floor and live in the other; allowing his tenants to pay for the mortgage. However, Eric fell on hard times and eventually got behind on his mortgage payments. "I ran into some problems: lack of work, got hospitalized, bills came up; so it became a problem," Eric said.
In 2012, Eric had abdominal adhesion surgery which caused him to miss six weeks of work remodeling and rehabbing properties. In 2013, his abdominal problems resurfaced, and though they did not require more surgery, they once again kept him away from work. He also did not have a tenant in the two flat at the time. "I didn't have a tenant in the building. So, when I recovered, I had to work extra hard to get one of the apartments ready to get a tenant in there so I could have some income coming in there," Eric said.
While working with his prior lender in early 2014, Eric was told that AHP had purchased his loan. Eric owed $221,910.48 on his mortgage plus about an additional $30,000 in accrued interest and late charges. Through working with AHP, Eric was able to work out a release of mortgage for an initial payment of $1,000 and 19 further payments of $19,000. For $20,000, Eric will be the outright owner of his two flat.
Using the real estate crowdfunding model and obtaining substantial discounts from lenders, AHP is able to make these modifications for people like Eric while providing investors 9-12% returns. To date, AHP has helped nearly 500 homeowners to stay in their homes and has extinguished over $50 million in negative equity.
American Homeowner Preservation was established in 2008 as a nonprofit organization before transitioning to for profit. Today, AHP creates opportunities for investors to strengthen families and communities through high yield distressed mortgage investments. For more information about American Homeowner Preservation, please visit our website at https://ahpinvest.com, call (800) 555-1055 or email us at info(at)ahpinvest(dot)com.