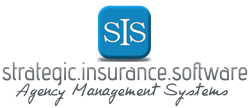 Earning this credential identifies SIS as a business that meets or exceeds the best information security practices the IT industry has to offer.
Columbus, Ohio (PRWEB) May 09, 2014
Strategic Insurance Software (SIS), maker of Partner XE, a leading agency management system for independent insurance agents, announced today it has received the CompTIA Security Trustmark™ credential. CompTIA is a respected industry credential that signifies its adherence to best practices for information security.
Mensur Sejfovic, Director of Operations for SIS, sees security as a top priority for SIS: "The designation from CompTIA validates the engagement and effort of our entire team in understanding and implementing best practices to maximize protection for our customers."
"Earning this credential identifies SIS as a business that meets or exceeds the best information security practices the IT industry has to offer," said Nancy Hammervik, senior vice president, industry relations, CompTIA. "They consistently follow best practices by helping companies to identify regulatory compliance gaps and address problem areas in security policies, processes and planning."
The Trustmark was developed by CompTIA, the non-profit association for the information technology industry, in collaboration with industry experts and leaders to identify technology businesses that use the security processes identified by the IT industry as generally accepted best practices.
Alex Deak, CEO of SIS, is pleased to demonstrate SIS' dedication to the security of its partner agencies' data: "Achievement of the CompTIA Trustmark is a further demonstration of our commitment to security and operational consistency."
The CompTIA Security Trustmark is a self-assessment that identifies businesses that follow security best practices in data protection, personnel security, and access management. SIS was evaluated in areas such as security technologies, including firewalls, anti-virus/ malware/ spyware and intrusion detection; vulnerability assessment detection; data encryption; technical employee knowledge/expertise; security clearances and background checks; physical and hardware security; and permissions, passwords and other security requirements.
Visit CompTIA Security Trustmark to learn more.

Headquartered in Columbus, Ohio, Strategic Insurance Software (SIS) is the team behind Partner XE–an innovative web-based insurance agency management system that helps independent agencies streamline workflow and grow their business. Built on a foundation of strong technology and exceptional service, we're moving forward with a constant eye on innovation that will make independent agents' lives easier.
CompTIA is the voice of the world's information technology (IT) industry. Its members are the companies at the forefront of innovation; and the professionals responsible for maximizing the benefits organizations receive from their investments in technology. CompTIA is dedicated to advancing industry growth through its educational programs, market research, networking events, professional certifications, and public policy advocacy.