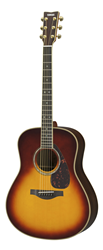 Buena Park, CA (PRWEB) May 08, 2014
The redesigned lineup of Yamaha L Series handcrafted acoustic guitars is now shipping.
The L Series, a revered line of handcrafted acoustic guitars known for tonal quality, fine tone woods and impeccable workmanship, now features several innovations that deliver classic quality and value.
All new models now include solid Engelmann spruce tops that are treated with A.R.E. (Acoustic Resonance Enhancement), an original wood reforming technology developed by Yamaha. Instruments made with this technology produce a tonal richness that can only be found in vintage models that have been played for many years. A. R. E. treatment provides outstanding tonal balance and eliminates the harsh edge common with younger guitars. More information is available at http://4wrd.it/are.
Redesigned bracing, introducing a lower bracing height and shape, improves the vibration of the top board and tonal transference throughout the guitar, creating a balanced low end and crisp top end characteristics. Several other playability enhancements include a refined, thinner neck profile, lower string action and wider string spacing. A new five-ply neck design adds stability and additional tone enhancement.
In a first for the L Series, these models come with an unobtrusive passive under-saddle Studio Response Technology (S. R. T.) pickup for live applications that does not affect the unplugged sound or detract from the gorgeous finishes of these guitars. Yamaha added this almost invisible and simple-to-use feature that expands each guitar's capabilities.
Previously constructed only with Rosewood back and sides, the new L Series now offers models with Mahogany back and sides, in addition to the Rosewood models, to meet the market demand for both popular choices.
Pricing
Yamaha LS6M ARE, LS6 ARE, LL6M ARE, LL6 ARE, LL16 ARE, LL16-12 ARE, LL16D ARE, LL16L ARE, LL16M ARE, , LS16 ARE, LS16M ARE (MSRP: $820 to $1,575).
For more information, please visit http://4wrd.it/lseriesonline.
-END-
About Yamaha
Yamaha Corporation of America (YCA) is one of the largest subsidiaries of Yamaha Corporation, Japan and offers a full line of award-winning musical instruments, sound reinforcement and home entertainment products to the U.S. market. Products include: Yamaha acoustic, digital and hybrid pianos, portable keyboards, guitars, acoustic and electronic drums, band and orchestral instruments, marching percussion products, synthesizers, professional digital and analog audio equipment, Steinberg recording products and Nexo commercial audio products, as well as AV receivers, amplifiers, Blu-ray/CD players, iPod docking systems, home-theater-in-a-box systems, earphones, headphones, sound bars, and its exclusive line of Digital Sound Projectors. YCA markets innovative, finely crafted technology and entertainment products and musical instruments targeted to the hobbyist, education, worship, professional music, installation and consumer markets.