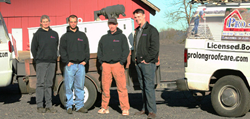 They need to look beyond just the minimum wage issue and if they did so a workable solution could be reached.
Seattle, WA (PRWEB) May 08, 2014
It's hard to go anywhere in or around the Seattle area today without hearing something about the minimum wage debate. Most area residents are well aware of Mayor Murray's plans to raise the minimum wage in Seattle to $ 15.00/hr. One industry facing an enormous impact is the home service industry, like roof cleaning, carpet cleaning, and lawn services, especially those privately owned and operated. The home service industry, including landscaping and exterior home maintenance, have stringent and costly government regulations. They must be compliant with Labor and Industry standards and regulations which can be complex and costly. They also face numerous challenges with regard to the costs of overhead and downtime making the increase harder to deal with.
Tony Hallenbeck, owner of ProLong Roof Care, says that he serves as the perfect example of one which will be negatively impacted by wage hike. ProLong is a small, locally run business in Seattle specializing in roof cleaning. Tony explains, "roofing is a tough job, and you have to know what you're doing. Not every new hire gets it right away. When they know what they are doing on a rooftop I don't mind paying them well. But with the wage increase, I'd be paying untrained workers the same as experts. That just doesn't make sense."
Tony keeps his prices as low as possible in order to stay competitive. As Tony states, "If I'm forced to pay my guys that much more, I couldn't afford it. I'd have to increase my prices, and then I would no longer be competitive with the larger companies, who can better afford to absorb the increases. It could force me out of business."
Tony believes if the government would loosen some of the restraints imposed on him, it might help them survive the impact of the wage hike. They need to look beyond wage issue and find a workable solution.
David Grimes, owner of Yardwork, Etc., a small landscaping contractor based out of Mukilteo Washington is in agreement with Tony. While David is "all for" an increase in minimum wage, such a drastic increase as the Seattle proposal would sound a death knell for many small businesses. David explains that there is a very high overhead to begin with. "I pay my workers for times they don't work like travel time to and from their jobs. It's part of the cost of doing business. I don't make a lot of profit as it is. With a wage hike, I might be losing money at the end of the year. I don't want that. Would you?"
Like ProLong, Yardwork Etc has to keep prices competitive. Still, since they pride themselves on providing expertise, his prices are a little higher than less experienced lawn services. But the quality of the work done goes well beyond others. If the minimum wage is bumped up, David is afraid he will have to increase his prices more. He will likely lose some customers and cause irreparable harm to a business he's built from the ground up.
If David hires a person who learns and proves himself, he has no problem paying an increased wage. With a major minimum wage increase unskilled workers will make nearly the same as his experts. That means wages would have to go up proportionately across the board, meaning the increase doesn't just apply to entry level workers.
Matt Brammer runs Smith Brothers Carpet Cleaning, a Marysville company. He understands how people feel they would benefit from such a high minimum wage but believes that everyone would pay the price. "When a business is forced to pay more money, more than likely, they are going to pass those expenses on. That's just how it works." Matt doesn't believe he could raise his prices because, just like the others, he needs to stay competitive. He already pays his experienced employees higher than the proposed wage. If the increase goes into effect, he's afraid his skilled employees would pay the price as he would have to balance his budget and flatten the pay scale.
In the meantime, the push for a minimum wage increase has gained momentum, not just in Washington State, but Nationwide. While both sides in this fervent debate make valid points, based on Seattle's lead, an increase in minimum wage for all of Washington State seems inevitable, and the truth as to the ultimate effects may only be a matter of time.
About the Author
Mark Waldin is an independent writer and president of Inside Edge, a marketing specialty business serving the home services industry. He represents dozens of small home services businesses in and around the Seattle area. You can reach him at mwaldin(at)ieola(dot)com or the website.