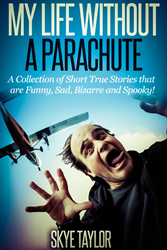 It was a tongue-in-cheek "Chicken Soup for the Soul."
Rockford, IL (PRWEB) May 08, 2014
Released on Mar 24, 2014 by publisher BookBaby, this 161-page eBook is quickly becoming a favorite amongst short-story readers. 'My Life Without a Parachute' is a collection of 35 short stories that will take Taylor's readers through a wide-range of emotion. The book is currently available in eBook format on Amazon Kindle, Barnes and Nobles' Nook and Apple's iBook priced at just $2.99.
"The book is now 10 days old as of April 20th, 2014 and it hit the bestseller list on Amazon in the Humor-Essays section coming in at #84 and climbing! I'm totally humbled at how well it has been received thus far. The Feedback has been extraordinary and I'm totally blown away at all the positive responses," says author, Skye Taylor in his recently Goodreads blog post.
The book is based not just on his own life, but his wife's as well. Readers will laugh out loud as Skye tells about the crazy antics of his unforgettable mother-in-law or the hilarious "Mr. Meeps"- an orange tabby cat his wife adopted for just one day.
One Amazon user, Cathy provided a noteworthy comment about the new book in addition to a perfect 5-star rating stating, "I took this book with me on a recent plane trip and laughed so hard I ended up sharing my Kindle with three people on the plane. Skye's stories about his mother-in-law are priceless and a few of the passengers who borrowed my kindle laughed so hard that everyone wanted to read it. By the time I got my Kindle back I was landing and had to finish it that evening in my hotel room."
Another Amazon user, Chloe commented, "My Life Without a Parachute is a collection of short, mostly humorous real-life tales that you won't forget. It was a tongue-in-cheek Chicken Soup for the Soul."
Skye Taylor is both an artist and author who began painting in 1960. As a growing talent, Taylor won his first award for art in 1969. His art has become so popular in the fine art's community that his work is collected on an international level. This resulted in a five year contract with a major manufacturer for reproduction of his art and distributed worldwide to hotels, casinos, Overstock.com, and various other online retail stores as well as interior decorators worldwide in 2011. 'My Life without a Parachute' is his first book which recounts his personal life through short-stories and was released this spring.
For media inquiries regarding 'My Life without a Parachute', individuals are encouraged to contact Author, Skye Taylor directly at (779) 348-0705 or via email at skyetaylor(at)skyetaylorgalleries(dot)com. To learn more about the book or to purchase it, please visit: http://www.mylifewithoutaparachute.com.