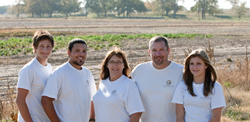 We are proud to be a part of the Made in Oklahoma Coalition.
Oklahoma City, OK (PRWEB) May 08, 2014
Andrews Honey Bees is a local honey producer owned and operated by Kevin Andrews and his family. Andrews relocated his 32,000 bee hives, which each contain 65,000 bees, from Southern California to Asher, Okla. He brought with him a top shelf line of honey.
"We are a full on family business right here in Asher, Okla.," Andrews said. "What a great place to reside and grow a business."
The honey created by the Andrews family bees is derived from the pollen introduced by native Oklahoma botanicals. Wildflower, alfalfa and clover help produce the various honeys and add notes of character. Honey produced from native wildflowers, for example, is both floral and bold. The Oklahoma environment has allowed Andrews to produce some of the purest natural honey available.
"When we allow our bees to flourish in Oklahoma fields, we can chase the flower at its best time," Andrews said.
This premium honey is found in many great Oklahoma businesses and other products. Kize Concepts, known for quality protein bars, and a favorite of local professional athletes, lists Andrews Honey as their second main ingredient in many of their health bars. Oklahoma City based restaurant Waffle Champion also uses Andrews exclusively in its honey-based syrups.
"We use it exclusively because it's the best," Waffle Champion owner, Todd Woodruff said. "It's in our Tabasco honey which is used on our bestseller chicken and waffles, balsamic honey on the Brussels sprouts waffle and in various other recipes."
Andrews Honey Bees primary business and marketing support group is the Made in Oklahoma Coalition.
"We are proud to be a part of the Made in Oklahoma Coalition," Andrews said. "Since joining in January 2014, we have been picked up by several new restaurants, which has helped us to increase sales."
The Made in Oklahoma Coalition is a state-run group that represents more than 40 Oklahoma food and agricultural manufacturers. The coalition has grown to represent businesses statewide that employ more than 20,000 Oklahomans. These businesses collectively generate over $3.5 billion in annual revenue for the state.
Marketing assistance, point-of-sale materials, community relations, trade show support and advertising are just few areas where an Oklahoma business can get help from The Made in Oklahoma Coalition. A statewide television campaign is currently underway featuring Andrews Honey Bees and other coalition members.
"Made in Oklahoma Coalition is thrilled to have Andrews Honey Bees join our group," the coalition's coordinator Kerry Barrick said. "Andrews Honey Bees brings a unique business to Oklahoma, and we have a long history of helping Oklahoma businesses surpass their marketing and sales goals."
The alliance of Andrews Honey Bees and the Made in Oklahoma Coalition is proving to be a sweet success. Each season Andrews Honey Bees produces a half million pounds of honey. Judging by the amount of honey the bees are producing, they seem to love their new home in Oklahoma.
To learn more about Andrews Honey Bees and any of the other Made in Oklahoma brands, visit: http://www.miocoalition.com or contact Made In Oklahoma Coordinator Kerry Barrick at the Oklahoma Department of Agriculture in Oklahoma City at Kerry(dot)barrick(at)ag(dot)ok(dot)gov.