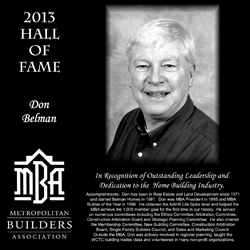 Waukesha, WI (PRWEB) May 07, 2014
The evening of May 1st, 2014 was very special to Don Belman for many reasons. As the founder of Belman Homes, a Milwaukee new home builder, Don was awarded the most prestigious honor of Metropolitan Builders Association's 2013 Hall of Fame Award. In addition to this esteemed prize, the Milwaukee Builder of the Year was presented with his award by his son, David Belman, who, just moments before, won the Wisconsin Builders Association' s Rising Star Award.
"It was an incredible honor and privilege to be able to present my father with such an esteemed honor. It was truly a highlight of my career to tell my father how proud I was of him," said David Belman.
The event was held at Surg on Water, in Milwaukee's Historic Third Ward. Don was not aware in advance he was going to receive the award. "Don has also been very generous to the community when it was in need. Often donating money to save important things in the community such as the City of Waukesha's Fireworks on 4th of July and an ice skating rink the he used to play on as a child. Don did this without ever being asked, and without any thought of getting any recognition from it. He did simply because it was the right thing to do," his son mentioned while presenting the award.
Don and Belman Homes have built over 1500 homes and developed over 14 subdivisions in Milwaukee and Waukesha counties. He has been a new home builder for over 33 years, and has served on various MBA boards, including the marketing committee, ethics committee, and new building committee.
Belman Homes is a new home builder in Milwaukee and Waukesha. They specialize in custom home building and energy efficient homes. They have had homes showcased in the Parade of Homes for several years. These recognitions by the Metropolitan Builders Association are held in high regard.