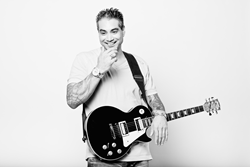 Fort Lauderdale, FL (PRWEB) May 12, 2014
Being original and unique can warrant both harsh resistance and lucrative rewards in business. Entrepreneurs and business owners who willingly take risks may find the unique niches in which their businesses will thrive. Using communications technology has helped Dyce Kimura deliver exceptional Fort Lauderdale guitar lessons from the comfort of home. Communications technology is often used in business, but isn't something one commonly associates with music lessons. Yet, teaching via Skype is one of the attributes Dyce Kimura has become most recognizable for.
Dyce Kimura began his career as a Fort Lauderdale guitar teacher years ago. Like many teachers, he was familiar with the in-person approach, but quickly recognized the opportunity to expand his business through careful consideration and planning. "Technology changes a lot and allows us to stay connected even when we are miles apart. As communications technology improved, I found it was also a great way to reach out to a larger group of eager guitar students who, for their own individual reasons, favored an online approach to learning guitar," says Dyce Kimura. After delivering lessons via Skype and seeing positive results, Dyce Kimura made it a regular method for teaching guitar.
"When students look up Fort Lauderdale guitar lessons, they expect to have to meet with a teacher in person. This requires them to drive to the lesson, play, and return home to practice. I'm giving them an alternative approach to learning guitar," says Dyce Kimura. His alternative method to teaching guitar is rapidly gaining in popularity. To get people interested in Skype guitar lessons, he is using a special promotion for current and former students. Any current or former Skype students are welcome to refer a friend for Skype lessons. If the referred friend accepts the lesson, the student who made the referral will receive a complimentary Skype lesson of their own.
Music teachers like Dyce Kimura often rely on a referral system for new students. Guitar lessons are typically an extra-curricular activity not commonly offered by schools, and there may be a number of guitar teachers within a single community from which to choose. Reputation and a word-of-mouth system help teachers stay in business, and referrals are a major part of finding new students. Incentives and promotional programs are useful for attracting new business and maintaining a social network within the community. Dyce Kimura enjoys teaching new students of all skill levels and relies on current and former students to help him recruit new pupils.
Dyce Kimura is a guitar teacher who embraces the communications technology Skype, and uses it to teach guitar. He also teaches in person and welcomes students from all talent levels and styles.
Contact Details:
Dyce Kimura
786-457-3687
http://www.dycekimura.com