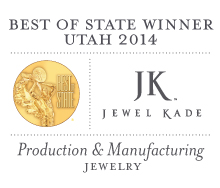 Our mission is reminding women everywhere of the power within, and it is a credit to our incredible production and management team ... as well as our Stylists ... that Jewel Kade has become an award-winning company. - Janet Kinkade, JK President
Alpine, UT (PRWEB) May 08, 2014
Jewel Kade has recently received the Best of State Utah 2014 award for Production & Manufacturing – Jewelry. The award, given by the Best of State organization (Utah's leading premiere recognition program), honors Jewel Kade for superior performance, company growth, innovation and customization, and commitment to the community. Jewel Kade will join other award winners at the fourth annual Best of State awards gala, Excelling and Surpassing All Else, in Salt Lake City on June 4.
Jewel Kade was founded just five years ago by designer and mother of five, Janet Kinkade. Since then it has grown from a basement start-up to a thriving jewelry and décor brand with thousands of Stylists across the US and Canada, and nearly 100 employees at its Home Office in Alpine, Utah. With an expanding product line, industry-leading compensation plan, and recent distinction as a Direct Selling Association member, Jewel Kade is poised for continued growth, with its current focus on doubling its number of Stylists.
The brand's collections have expanded from Janet's original charms and chains, setting trends in vintage, contemporary, special event and everyday jewelry fashion. Jewel Kade has added Poetry Custom Canvases to its offerings, lending Jewel Kade's artisan inspirations to décor, as well.
As a leader in combining technology with artistry, Jewel Kade's state-of-the-art online JK Studio allows customers to design their own custom charms and canvases, which are then handcrafted by Jewel Kade's Production Artists in Alpine, Utah, not far from where Jewel Kade started.
Committed to the community, Jewel Kade created its JK Cares Collection, with special pieces designed exclusively for charity. The first collection was dedicated to the American Heart Association, with 5% of the sales going toward the fight against cardiovascular diseases that affect millions of women nationwide. In the last two years, Jewel Kade donated more than $10,000 to the American heart Association.
Jewel Kade has since shifted its focus to the fight against breast cancer, with jewelry that celebrates the "Hope for More." With proceeds going to the Huntsman Cancer Institute, Jewel Kade has donated more than $10,000 over the last two years to help fund research and care.
"We are so honored to receive the Best of State 2014 award for production and manufacturing," said Janet Kinkade, JK Founder, President & Designer. "Our mission is reminding women everywhere of the power within, and it is a credit to our incredible production and management team here in Utah, as well as our Stylists across the US and Canada, that Jewel Kade has become an award-winning company, impacting so many people in so many ways."
ABOUT JEWEL KADE
A member of the Direct Selling Association, Jewel Kade uses its artisan jewelry and inspiring décor to accomplish its mission of reminding women everywhere of the power within. Available through JK Stylists, Jewel Kade is a fresh take on timeless fashion. Founded by Designer Janet Kinkade, Jewel Kade's Signature Charms and Poetry Custom Canvases are all handcrafted in JK's Production Studios in Alpine, Utah. Jewel Kade has garnered national attention – appearing on ABC News, The Today Show, The Ellen Degeneres Show, and American Idol. (Citing media references does not imply endorsement of Jewel Kade products in any way by media, related production companies or related spokespersons / personalities.) Committed to making a difference, Jewel Kade also offers the JK Cares Collection. For every JK Cares piece purchased, 5% of the proceeds goes directly to help in the fight against breast cancer (Huntsman Cancer Institute). For more information on Jewel Kade's inspiring story, artisan jewelry and Poetry Custom Canvases, visit http://www.jewelkade.com.