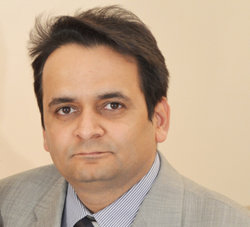 Our team works relentlessly to create Big Data technologies that make healthy grocery shopping easier, and more affordable.
Newton, Mass. (PRWEB) May 08, 2014
NutriSavings is proud to announce that Niraj Jetly, SVP, CIO/COO, was named as a 2014 CIO of the Year from Mass High Tech Boston Business Journal in the category of emerging business.
Working with health and nutrition experts, NutriSavings developed the first measurable corporate nutrition and wellness program, which incentivizes healthy groceries purchases with savings at the supermarket. NutriSavings is on a mission to improve the health of the U.S. workforce through better nutrition, and to reduce the enormous healthcare costs shouldered by employers. Each year, $700 billion is spent on the associated costs of obesity and other chronic diseases in the U.S.
"At NutriSavings, we believe that good nutrition is a key ingredient to improving health, reducing healthcare costs, and improving employee productivity," Jetly said. "Yet, two obstacles face employees on their path to healthy eating – confusion at the supermarket aisle and the higher cost of healthier groceries. Our team works relentlessly to create Big Data technologies that make healthy grocery shopping easier, and more affordable."
NutriSavings, a subsidiary of Edenred, leverages Big Data to process 150 million nutritional data elements and provide incentives and rewards based upon behavioral changes that take place while participants shop at their favorite supermarket. Participants also have access to employer-funded rewards and discounts on healthier food items offered by major food & beverage brands
"We have an opportunity to highlight the technological achievements of proven leaders. These are the leaders who are at the forefront of innovation. These are the CIOs who keep our businesses operating without interruption. These are the people who keep our business systems secure," said Chris McIntosh, publisher of the Boston Business Journal and Mass High Tech.
Jetly, along with other winners, will be honored at a June 26 breakfast at the Renaissance Boston Waterfront Hotel.
About NutriSavings
NutriSavings is an online ecosystem where employers, health plans, food and beverage companies, and produce growers, join forces to educate American works on proper nutrition. We are on a mission to improve the health of the U.S. workforce and reduce the enormous costs associated with obesity and other chronic diseases through better nutrition. NutriSavings is the first measurable nutrition benefit solution that is designed to change shopping behavior and incentivize healthy food purchases. Our solution is integrated with the nation's largest supermarket chains, enabling participants to see their grocery basket score in near real-time. NutriSavings is a joint venture between Edenred, the world leader in employee benefits, and SavingStar, the only national fully digital grocery savings service in the U.S.
About Edenred
Edenred, which invented the Ticket Restaurant® meal voucher and is the world leader in prepaid corporate services, designs and delivers solutions that make employees' lives easier and improve the efficiency of organizations. By ensuring that allocated funds are used specifically as intended, these solutions enable companies to more effectively manage their:

Employee benefits (Ticket Restaurant®, Ticket Alimentación, Ticket CESU, Childcare Vouchers, etc.)
Expense management (Ticket Car, Ticket Clean Way, Repom, etc.)
Incentive and rewards programs (Ticket Compliments, Ticket Kadéos, etc.). The Group also supports public institutions in managing their social programs.
Edenred operates in 40 countries, with some 6,000 employees, nearly 610,000 companies and public sector clients, 1.3 million affiliated merchants and 38 million beneficiaries. In 2012, total issue volume amounted to €16.7 billion, of which 61% was generated in emerging markets.
Ticket Restaurant® and all other tradenames of Edenred products and services are registered trademarks of Edenred SA.
Media Contact
Jaime Crespo, Director of Marketing - Phone: 617-600-1529 jaime.crespo(at)nutrisavings(dot)com