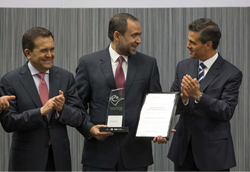 When the CEO of iTexico explained his company's mission and the opportunity they were trying to tap into, light bulbs went off in my head
Austin, TX (PRWEB) May 11, 2014
Chief Outsiders is pleased to congratulate iTexico on winning the 2014 National Entrepreneurship Award (Premio Nacional del Emprendedor) in the small business category. This award is given by the Government of Mexico to the most promising companies and individuals who are making a significant and positive impact to the economy of Mexico and the global economy as well. In 2014, there were more than 8500 applicants for the award.
iTexico is one of Chief Outsiders new clients. They provide software development services including mobile and cloud development. Headquartered in Austin, Texas, they operate with a wholly owned delivery center in Guadalajara, Mexico. With their central location and a development center in one of Mexico's technology centers, iTexico is able to bring world-class software development services at an affordable price and close proximity to its clients in the US.
Chief Outsiders' key mission is to help achieve growth goals for small to mid-size companies, and iTexico exemplifies this. The company was launched in 2011 and has grown to over 80 employees in the three years and has worked with over 80 clients. "When the CEO of iTexico explained his company's mission and the opportunity they were trying to tap into, light bulbs went off in my head. Clearly there was a significant value proposition that needed to be refined and taken to the market place for greater traction. That is what we are helping iTexico do, and that's what we believe will take iTexico to the next level," said Atul Minocha of Chief Outsiders.
"Since our formation in 2011, we have done the usual things for business development and marketing. That worked for us initially and got us off the ground. More recently, we found ourselves 'doing' a lot of things without gaining clear and obvious 'traction.' By engaging Atul Minocha from Chief Outsiders, we are now able to get more strategic about our marketing efforts and investments and expect to get a much higher return for our efforts," according to Anurag Kumar, CEO of iTexico.
Chief Outsiders is comprised of 30 C-Level marketing executives spanning across the nation and with experience in a wide spectrum of industries. As marketing veterans, our CMOs bring a blend of strategic and tactical marketing experience gained over years of in-the-trenches real-world situations. Since 2008, Chief Outsiders have helped over 200 small to midsized companies achieve their vision.
About Chief Outsiders:
Headquartered in Houston, TX, and silver winner of the American Business Awards "Company of the Year," Chief Outsiders serves mid-sized companies from coast to coast with part-time CMO services. Chief Outsiders is unique among strategic marketing consulting firms, taking businesses to the next level by working as part of the leadership team on a fractional or as-needed basis. Unlike most marketing consulting firms, Chief Outsiders believes delivering a world-class marketing strategy on its own creates very little value. The real value is created by helping the organizations implement their growth vision.
Chief Outsiders has been a premier source for marketing expertise, execution and leadership for companies. Our CMOs bring experience gained in companies such as AT&T, Advanced Micro Devices, American Express, Aramark, Barclays's, Coca-Cola, Danaher, Halliburton, Honeywell, InfoUSA, International Paper, Johnson & Johnson, Kellogg's, Kodak, Onyx Software, Prudential, Radioshack, Sargento, Terminix and WebMD.