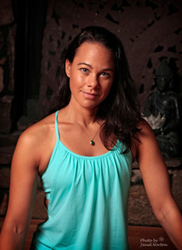 If someone is experiencing recurring headaches, it is most likely, not because they have a deficiency of Tylenol.
Tampa, Florida (PRWEB) May 08, 2014
Known for its excellence in yoga teacher training, The Lotus Pond – Center For Yoga and Health in Tampa, is proud to host Larissa Hall Carlson for this weekend workshop. Larissa has recently appeared in Yoga Journal magazine and is the current Dean of the school of Ayurveda at Kripalu. She will be sharing her expertise and knowledge of how this ancient system of wellness can bring physical, mental and spiritual balance into ones life.
Developed side by side with yoga (about 5,000 years ago), Ayurveda is the oldest surviving system of wellness in the world. Translated from its Sanskrit root, the word Ayurveda means knowledge of life (ayu=life, veda=knowledge).
As a holistic form of medicine, Ayurveda looks at and treats people as the unique individual that person is. It looks at symptoms as clues to underlying imbalances rather than as a malady needing direct attention. If someone is experiencing recurring headaches for example, it is most likely, not because they have a deficiency of Tylenol. The headaches may point to dietary or lifestyle imbalances. By adjusting the diet, lifestyle or both Ayurveda addresses the root cause thus eliminating the effect.
According to Dr. Vasant Lad, author of The Complete Book of Ayurvedic Home Remedies, "As a science of self healing, Ayurveda encompasses diet and nutrition, lifestyle, exercise, rest and relaxation, meditation, breathing exercises and medicinal herbs for healing the body mind and spirit."
In this workshop, you will learn how to determine your dosha and how you can achieve balance in every aspect of your life through the understanding and implementation of Ayurvedic practices. Bringing the concepts of Ayurveda into your lifestyle, you can enhance your optimal health and have the energy, mental clarity and emotional balance to enjoy life to its fullest.
The Lotus Pond – Center For Yoga and Health, is a nationally recognized yoga training center located in Tampa, Florida. The Lotus Pond is also home to The Florida Academy of Ayurveda, recognized by The Florida Board of Education as a post-secondary school. To learn more about The Lotus Pond or the Introduction to Ayurvedic Lifestyle workshop, please visit www(dot)lotuspondyoga(dot)com.