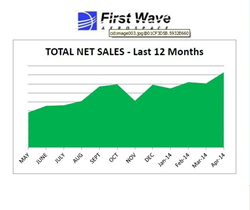 We believe in giving the Customer what they want
Tulsa,OK (PRWEB) May 08, 2014
Commercial aircraft parts distributor, First Wave Aerospace finished the month of April with record breaking sales and quotes since 2009. This achievement marks a 54% sales growth of monthly sales over the last 12 months, since a change of management/ownership in May 2013 and the implementation of a new marketing plan.
The key to the 21-year-old distribution company's increased sales is its transformation into a sales and management organization with a customer-centric approach to the aerospace aftermarket, according to First Wave's marketing strategist.
"We believe in giving the customer what they want and what the commercial aerospace aftermarket wants; aircraft parts one-stop shopping," Glen Hyden, Vice President & General Manager said. "We organized and empowered our Sales Team to have P&L responsibility to serve the customer, whether that's providing parts in our vast inventory or going out on the market and buying the parts to meet the customer's requirement. We manage component repairs the same way. Our Sales Team is our Purchasing Department for brokered parts and aircraft component repairs. That saves time and serves our customers well."
The first sales initiative that the new First Wave management embarked on was expanding the Sales Team with existing employees to search and buy urgently required parts on behalf of customer requests when First Wave did not have the required parts in inventory. This brokered parts function was performed by personnel who formerly worked in the Inspection and Inventory areas of First Wave who were quite familiar with FAA regulations and customer QC requirements. As a result, this search-and-buy approach for brokered aircraft parts by qualified personnel was the first stimulant to First Wave's new sales strategy.
The second step of the new sales approach was the launching a new MRO Management Service with its first customer - a major account in the Tulsa area. It was the first new product launch in years for First Wave and that new Customer is already one of the firm's top 10 customers in volume this year.
"The new First Wave is a sales and service organization and the new MRO parts repair management product fits our experience and talents, as well as it provides the aerospace aftermarket with a growing need of managing MRO services and logistics," said Tony McAnly, President of First Wave Aerospace. "This service product capitalizes on the trend of manufacturers, MROs and airlines of shedding the headache and overhead of repairs management and positioning of spares and parts."
Tim White, First Wave Vice President, Inventory Development, said the firm will also provide logistics, MRO stocking and storage service for customers either at the First Wave Aerospace facilities in Tulsa or at the customer's location.
First Wave Aerospace has one of the largest inventories of commercial aerospace parts in the Americas with 280,000 line items of 6.8 million parts in warehouse facilities centrally-located in Tulsa.